Location
The plaque is on the back of one of the choristers stalls in the chancel.
North side, back row, sixth from the west end.


Memorial
Portrait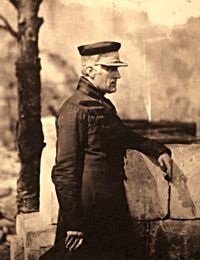 Portrait of Sir Harry Jones
From the Roger Fenton Catalogue
The Library of Congress
Rep.No. LC-USZC4-9315


Inscription
GENERAL SIR HARRY
D. JONES G.C.B. DIED
AUG 2 1866 AGE 75
DD: FRIENDS.

Further Information

General Sir Harry Jones served in the expedition to Walcheren in 1809. Also the campaigns of 1810, 11, 12, 13, and 14, including the actions and sieges of Cadiz, Tarragona (1811), Badajoz (1812), Vittoria, San Sebastian, passage of the Biddasoa, Nivelle, Nive, Bayonne.

Was wounded leading the forlorn hope at the first assault of St. Sebastian. He received the silver war medal with five clasps. Was appointed commanding engineer of the fortifications on Montmartre after the entrance of the English troops into Paris in 1815. Appointed a Brigadier-General for particular service in the Baltic in 1854, and commanded the British Forces during the siege operations against Bomarsund, in the Aland Isles, and for his services in the Baltic, was made Major-General. Appointed to command the Royal Engineers in the Eastern Campaign in 1855, which he retained until the fall of Sebastopol; was wounded in the forehead by a spent grape shot on the 18th June. Medal and clasp, K.C.B., Commander 1st Class Military Order of Savoy, etc. etc. Formed one of the Council of War held in Paris in January, 1856, when he received the Cross of Commander of the Legion of Honour. Was made Governor of the Military College, Sandhurst, and created G.C.B.
[From the 1873 Guide to the Church]

Sir Harry was one of the early contributors to the Official History of Britain in the form of his Crimean memoire "Journal of the Operations Conducted by the Corps of Royal Engineers"

See also
Wikipedia