Location
At the English Heritage store, Fort Brockhurst, Gosport [EH Ref No. 87900126]. The plaque was originally sited beneath the second window from the west end in the north wall.


Description
The memorial is made of metal and is in poor condition.


Memorial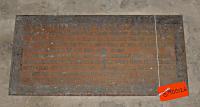 Inscription
IN MEMORY OF HENRY HUMPHRIES LOCAL CAPTAIN COMMANDING
MOUNTED INFANTRY IN EYGPT, WHO DIED AT CAIRO
16TH. MAY 1884. AGED 35 YEARS AFTER SERVING FOR
TEN YEARS SERGEANT-MAJOR IN THE 2ND. BATTN
ROY. INNISKILLEN FUSRS. (108 REGT.) HE WAS PROMOTED
LIEUT. IN THE 2ND. BATTN. WELSH REGT (69TH. ) IN 1881.
PROCEEDING TO EYGPT IN 1882 HE WAS APPOINTED PROVOST
MARSHALL AND AFTERWARDS TO THE MOUNTED INFANTRY,
WHICH CORPS HE COMMANDED WITH GREAT DISTINCTION IN
THE CAMPAIGN IN THE SUDAN IN 1884.
ERECTED BY HIS BROTHER OFFICERS OF THE MILITARY POLICE
AND MOUNTED INFANTRY CORPS AND MANY FRIENDS IN EYGPT.

Further Information

The church ledger records the spelling of the surname as Humphreys.