Location
The plaque is on the south (right) wall of the Nave in the unroofed part of the church.


Memorial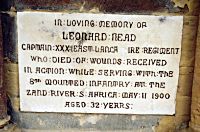 Inscription
IN LOVING MEMORY OF
LEONARD HEAD
CAPTAIN XXX (EAST LANCASHIRE) REGIMENT
WHO DIED OF WOUNDS RECEIVED
IN ACTION WHILE SERVING WITH THE
8th MOUNTED INFANTRY ST THE
ZAND RIVER S.AFRICA MAY 11 1900
AGED 32 YEARS.

Further Information
OFFICERS DIED : SOUTH AFRICA 1899 - 1902
HEAD - Captain Leonard - 1/East Lancashire Regt. Wounded at Zand River, 10th May 1900. Died next day. Aged 32. Born June 1867. Served Chitral 1895 (medal and bar).