Location
There are two plaques associated with this window, which is the most westerly of the three in the south wall of the Chancel. The Willis plaque is immediately below the current window which replaced the original that was lost in 1941. The Gunners plaque is situated below the window opening.


Memorial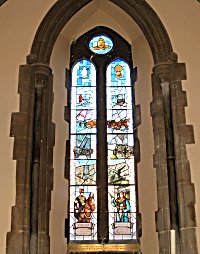 Inscription (Left Window)
UBIQUE
Dedicated to
The Royal Regiment
Of Artillery.

Inscription (Right Window)
ST BARBARA
The Patron Saint
Of Artillerymen.

Inscription (To the new window)
This window was installed by the Royal Artillery Association Portsmouth
Dedicated by Major General B.Davis CB,CBE
On the 14th June 1987
To commemorate all Gunners past & present
'Quo fas et gloria ducunt'.

Inscription (To the original window)
To the Glory of God and in memory of Eliza Angelina wife of Colonel
George H.WILLIS CB Quarter Master General Southern District who died the
11th Aug. 1867.


Further Information
See the Willis Memorial in the Chancel