Location
At the English Heritage store, Fort Brockhurst, Gosport [EH Ref No. 87900115]


Description
The memorial is made of metal and is in reasonable condition.


Memorial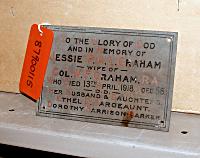 Inscription
TO THE GLORY OF GOD
AND IN MEMORY OF
JESSIE P.A.L. GRAHAM
- WIFE OF -
COL. W.F.GRAHAM R.A.
WHO DIED 13TH. APRIL 1918 AGED 58.
- D.D. -
HER HUSBAND AND DAUGHTERS
ETHEL D. SARGEAUNT,
DOROTHY HARRISON - BAKER.