Location
The plaque is on the back of one of the choristers stalls in the chancel.
North side, front row, fifth from the west end.


Memorial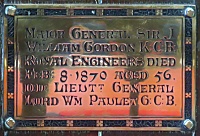 Inscription
MAJOR GENERAL SIR J.
WILLIAM GORDON K.C.B.
ROYAL ENGINEERS DIED
FEB 8 1870 AGE 56.
DD: LIEUT. GENERAL
LORD WM. PAULET G.C.B.

Further Information (From the 1873 Guide to the Church)
Major-General Gordon served in the Crimea, and was at the battles of Alma, Inkerman, and at the seige of Sebastopol. He greatly distinguished himself throughout the war, was severely wounded, a ball passing through both arms while he was directing the seige operations; received brevet rank of Major, Lieutenant-Colonel and Colonel, C.B., fourth class of the Medjidhe, Officer of the Legion of Honour, and medal with three clasps for Alma, Inkerman and Sebastopol; was afterwards created K.C.B.