Location
At the English Heritage store, Fort Brockhurst, Gosport [EH Ref No. 87900112]


Description
The memorial is made of metal and is badly damaged though mostly legible.


Memorial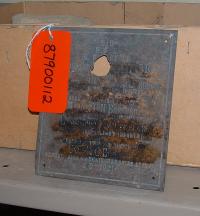 Inscription
D.D. M. S. E. IN MEMORY OF LT COLONEL AND
BT COLONEL F J EVELEGH, OXFORDSHIRE LIGHT INFANTRY
AND ROYAL GARRISON REGIMENT.
MAJOR C N EVELEGH, DUKE OF CORNWALLS LIGHT INFANTRY.
LT. COLONEL E G EVELEGH ROYAL MARINE LIGHT INFANTRY
AND NELSON BATTALION RN DIVISION.
CAPT. R C EVELEGH OXFORDSHIRE AND BUCKINGSHIRE
LIGHT INFANTRY. A D 1921.