Location
At the English Heritage store, Fort Brockhurst, Gosport [EH Ref No. 87900103]. This memorial plaque was originally sited on one of the benches in the nave. This area of the church suffered the worst effects of the bombing in 1941.


Description
The memorial is made of metal and is very dirty, though the text is still legible.


Memorial
Portrait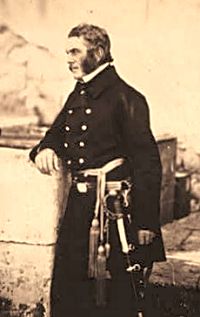 Portrait of Major-Gen. Escourt, 1855
From the Roger Fenton Catalogue
The Library of Congress
Rep.No. LC-USZC4-9254


Inscription
D.D. HIS WIDOW TO THE GLORY OF GOD AND
IN MEMORY OF MAJOR GEN BUCKNELL ESCOURT,
ADJUTANT GEN OF THE BRITISH ARMY IN THE CRIMEA
WHO DIED BEFORE SEBASTOPOL FROM ILLNESS
BROUGHT ON BY OVER EXERTION.
JUNE 24 1855.

Further Information

Like most of his fellow senior officers in the British army, Brigadier-General James Bucknall Estcourt who was sent to the Crimea as Adjutant-General had no experience of war. He was regarded as a hard working officer but felt himself to be more of an explorer than a soldier. He formerly sat as MP for Devizes at which time he had participated in an expedition to the Euphrates Valley. He was thought of as kind and courteous which may have suited a civilian role but is hardly likely to do justice to a man responsible for discipline in the army.

Amongst his duties in the Crimea was responsibility for filing returns of the dead and injured after each battle. There is a copy of his return for the battle of Alma in the Public Record Office

His service history can be seen at www.crimeantexts.org.uk/backgrnd/biogs.html#estcourt