Location
The window is at the east end of the Church above the altar.


Memorial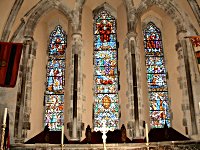 Inscription (On the window)
THIS WINDOW REPLACES ONE DESTROYED BY BOMBING JANUARY 1941
Further Information
This window is divided into three sections. Before the bombing in 1941, those three compartments were separately dedicated to General Sir C.J. Napier, Field Marshall Lord Raglan and Field Marshall Lord Clyde. Sadly the 1873 Guide to the church does not record the inscriptions, nor describe whether they existed as text on the glass or on brass plaques. Either way, no trace of them has survived.