Location
The plaque is on the south (right) wall of the Nave in the unroofed part of the church.


Memorial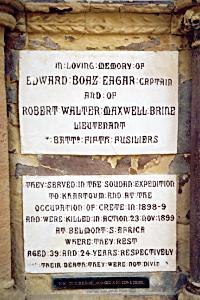 Inscription (Upper)
IN LOVING MEMORY OF
EDWARD BOAZ EAGAR: CAPTAIN
AND OF
ROBERT WALTER MAXWELL BRINE
LIEUTENANT
BATTn FIFTH FUSILIERS

Inscription (lower)
THEY SERVED IN THE SOUDAN EXPEDITION
TO KHARTOUM AND AT THE
OCCUPATION OF CRETE IN 1898-9
AND WERE KILLED IN ACTION 23 NOV 1899
AT BELMONT S AFRICA
WHERE THEY REST
AGED 39 AND 24 RESPECTIVELY
'THEIR DEATH THEY WERE NOT DIVIDED'

Further Information
OFFICERS DIED : SOUTH AFRICA 1899 - 1902
EAGAR - Captain Edward Boaz - 1/Northumberland Fusiliers Killed in action at Belmont. 23rd Nov. 1899. Aged 39. Son of Colonel Edward Hungerford Eagar (40th Foot) and Elizabeth Kelly. Born 7th April 1860. Served in the Nile expedition 1898 (medal and bar). He was killed by a wounded Boer who was holding a white flag. Memorial at St. Peter's Church, Leckhampton, Cheltenham, Glos. - "Sacred to the memory of Elizabeth relict of Lieut Col. Edward Hungerford Eagar, 40th Regiment, and daughter of the late Denis Kelly, Esq. of Castle Kelly Co Galway Ireland died at Cheltenham, December 19th 1892. Also in loving memory of her son Edward Boaz Eagar, Captain in the 5th Fusiliers, who fell at the Battle of Belmont, S. Africa Nov. 23rd 1899, Aged 39 years."

BRINE - Lieutenant Robert Walter Maxwell - Northumberland Fusiliers Killed at Belmont. 23rd Nov. 1899. Aged 24. Son of Colonel Bruce Brine (Royal Engineers). Born 23rd June 1875. Served in the Nile expedition 1898 (medal and clasp).