Location
The plaque is on the west wall of the Nave to the south of the main entrance. It is made of a soft stone and is almost illegible having been open to the weather since 1941.


Memorial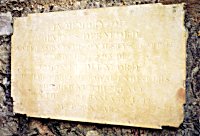 Inscription
IN MEMORY OF
CHARLES DURNFORD
LATE ENSIGN IN HIS MAJESTY'S 65th REGT
AND FIFTH SON OF
COLONEL DURNFORD
OF THE CORPS OF ROYAL ENGINEERS
WHO DIED AT THIS PLACE
ON THE 7th OF JANUARY 1832
AGED 20 YRS.



Further Information
According to the Durnford Family Genealogical website Charles Durnford's father was Colonel Elias Walker Durnford. It further states that there was a tombstone in St Mary's Churchyard, Kingston, Portsmouth with an inscription identical to that above and that it goes on to say "And of his brother, VINEY DURNFORD, Lieutenant of the Corps of Royal Engineers, Who died on the 5th of November 1836, Aged 23 years."

The Durnford family had a lengthy connection with the Royal Engineers, Elias Walker having joined in 1793, following his father. In all 11 members of the family served with the Engineers. Elias was involved in building defensive works in Guadaloupe, England and Ireland before being posted to Canada in 1808 where he remained until 1831. Presumably he was stationed in Portsmouth from about that time until at least 1836 when he retired to Tunbridge Wells. The Dictionary of Canadian Biography says "On 30 Oct. 1798 he married Jane Sophia Mann, daughter of a lawyer in Gravesend, England. They had 13 children, of whom four were born in Newfoundland and three at Quebec. Their six sons followed in Durnfordís footsteps to become officers in the British army. Three worked in turn with him as clerks in the office of the Royal Engineers at Quebec, and the eldest and the youngest joined the corps. The family followed him wherever he went, and two of his unmarried daughters remained with him even after he retired."