Location
On the north wall of the nave, at the eastern end.


Description
This memorial is in very poor condition and is almost illegible. The inscription is taken from records held at the church.


Memorial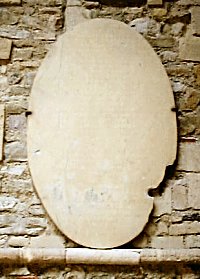 Inscription
NEAR THIS MONUMENT
LIES INTERRED
THE REMAINS OF COLONEL J.P. DESMARETZ
LATE HIS MAJESTY'S COMMISSARY
FOR THE DEMOLITION OF THE WORKS AT DUNKIRK
WHO DEPARTED THIS LIFE 16TH SEPTEMBER 1768
IN THE 82ND YEAR OF HIS AGE
THOUGH BORN A FOREIGNER
HE EARLY ADOPTED
EVERY GENEROUS SENTIMENT OF
CIVIL AND RELIGIOUS LIBERTY
AND EXERTED HIS ACTIVE ABILITIES
FOR THE SERVICE OF THIS NATION
IN THE QUALITY OF AN ENGINEER
AN INDEFATIGABLE ZEAL
AND UNSHAKEN INTEGRITY
IN THE EXECUTION OF SEVERAL IMPORTANT WORKS
COMMITTED TO HIS CHARGE
DESERVEDLY ENTITLED HIM
TO THE APPROBATION OF HIS SUPERIORS
AND THE ESTEEM OF THE PUBLIC
HIS SOCIAL VIRTUES IN THE SPHERE
OF PRIVATE LIFE
ENDEARED HIM TO ALL HIS FRIENDS
BY WHOM HE IS SINCERELY REGRETTED
HIS AFFECTIONATE DAUGHTER
MARY DESMARETZ DURNFORD
HATH CAUSED
THIS MONUMENT TO BE ERECTED
AS A TESTIMONY OF
FILIAL PIETY
TO THE MEMORY OF THE BEST OF FATHERS
AND OF A TENDER MOTHER
WHOSE RELIQUES ARE ALSO DEPOSITED
IN THIS CHAPEL
ON THE 21ST JULY
IN THE YEAR 1761



Further Information
John Peter Desmaretz was responsible for the remodelling of the fortifications around the town of Portsmouth. Between 1745 and 1756 he replaced the earlier double moat, built by Bernard de Gomme, with a single moat protected by large ravelins. In 1758 he is recorded as living in Warblington Street, Portsmouth.