Location
The plaque is on the side of one of the choristers stalls in the chancel.
North side, back row, first aisle from the west end.


Memorial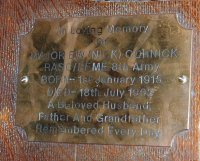 Inscription
In Loving Memory
Of
MAJOR E.W. (NICK) CORNICK
RASC/REME 8th Army
BORN - 1st January 1915
DIED - 18th July 1993
A Beloved Husband
Father and Grandfather
Remembered Every Day


Further Information
Although we have listed this plaque with those erected on the backs of the choristers stalls it is in no way associated with them, being an altogether later addition.