Location
On the south (right) wall of the chancel.


Memorial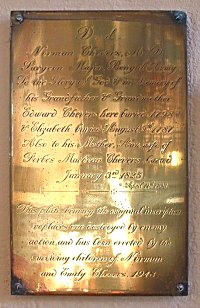 Inscription
D. d.
Norman Chevers M.D.
Surgeon Major Bengal Army
To the Glory of God and in Memory of
his Grandfather and Grandmother
Edward Chevers here buried 1798
& Elizabeth buried August 9th 1787
also to his Mother Ann, wife of
Forbes MacBean Chevers buried
January 3rd 1825
April 16th 1798

---
This plate bearing the original inscription
replaces one destroyed by enemy
action, and has been erected by the
surviving children of Norman
and Emily Chevers. 1948


Further Information
The original plaque is No. 145 in the list of memorials.