Location
The plaque is on the back of one of the choristers stalls in the chancel.
South side, back row, ninth from the west end.


Memorial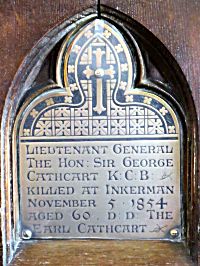 Cathcart's Hill Cemetery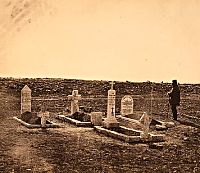 Cathcart's Hill Cemetery, 1855
From the Roger Fenton Catalogue
The Library of Congress
Rep.No. LC-USZC4-9222


Inscription
LIEUTENANT GENERAL
THE HON. SIR GEORGE
CATHCART K.C.B.
KILLED AT INKERMAN
NOVEMBER 5 1854
AGE 60 DD:
THE EARL CATHCART.

Further Information

"Lieut-General Cathcart, son of William, Earl Cathcart was born in 1794, joined the 2nd Life Guards when he was 16 years of age and fought with the grand army in the campaigns of 1812 and 1813 as Aide-de-Camp to Lord Cathcart; was engaged at Lutzen 3rd May, Bautzen 20th and 21st May, Dresden 28th August, Leipsic 18th and 19th October, 1813; Brienne 1st February, Bar-sur Aube 21st March and Fere Champanoise 25th March 1814.
Served also the campaign of 1815 as Aide-de-Camp to the Duke of Wellington, and was present at the battles of Quatre Bras and Waterloo. In 1837, he proved himself an energetic and efficient officer in quelling the outbreak in Canada. In 1852 he was made Governor of the Cape of Good Hope with command of the forces, and brought to a successful end the harassing Kafir war. He returned to England in time to take command of a division during the Crimean War, and was deemed one of the ablest and most active of the generals of the army in the east. His bravery was ever conspicuous, especially so at the battle of Inkerman, when he fell a hero, beloved and respected by all who knew him." [From the 1873 Guide to the Church]

He is buried at the Cathcart's Hill Cemetery above Sebastopol (see photo).

According to Colborne and Brine in "The Last of the Brave", the inscription on his gravestone read as follows:-


SACRED TO THE MEMORY
of
the Honble.
SIR GEORGE CATHCART K.C.B.
LIEUT. GENL. COMMANDING THE
4th Division of the British Army in the
CRIMEA
BORN 1794. KILLED 5th Novr. 1854
AT THE BATTLE OF
INKERMAN
*****
he served with the Russian Army in
the years 1813 and 1814 and was Aide-de-Camp
to the Duke of Wellington at Waterloo -
He was appointed in 1852
Governor of the Cape of Good Hope
from which place he had just returned.
***
[There then follows a lengthy tract in a foreign language, possibly Greek]
***
This stone was placed here
by the Officers and Men of the
4th Division.


See www.victorianweb.org for a biography of Cathcart.