Location
The plaque is on the back of one of the choristers stalls in the chancel.
North side, front row, sixth from the west end.


Memorial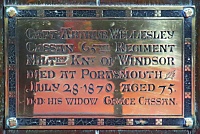 Inscription
CAPT ARTHUR WELLESLEY
CASSAN 65TH REGIMENT
MILT. KNT. OF WINDSOR
DIED AT PORTSMOUTH
JULY 28 1870 AGE 75.
DD: HIS WIDOW GRACE CASSAN.

Further Information (From the 1873 Guide to the Church)

Captain Cassan, 65th Regiment, lost left arm by a grape shot when leading the attack at the escalade of the Fortress of Dwarka in the East Indies; mentioned in general orders by Lieut-General the Hon. Sir Charles Colville for his gallant conduct on the occasion, was made a Knight of Windsor for distinguished services - died Portsmouth 23rd July 1870 aged 75 years.