Location
On the South wall of the nave.


Description
The memorial appears to be made of a soft stone which has suffered considerable weathering. Some of the text is barely legible.


Memorial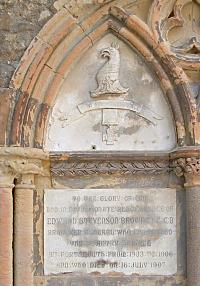 Inscription
TO THE GLORY OF GOD
AND IN AFFECTIONATE REMEMBRANCE OF
EDWARD STEVENSON BROWNE V.C. C.B.
BRIGADIER GENERAL WHO COMMANDED
THE INFANTRY BRIGADE
AT PORTSMOUTH FROM 1903 TO 1906
AND WHO DIED ON THE 16TH JULY 1907

Further Information

EDWARD BROWNE
Lieutenant
1st/24th Regiment of Foot (2nd Warwickshire Regiment)

Full Name: Edward Stevenson Browne.
Place of Birth: Park Terrace, St. Andrew the Great, Cambridge.
Date of Birth: 23 December, 1852, the eldest of three children.
Father: Salwey Browne, BA (originally from Essex). He died in 1859, in Gloucestershire.
Mother: Elizabeth Browne, daughter of William Stevenson, Esq of Quebec, at Quebec, 11 May 1848. After her husband's death she lived at 13 Regent Street, Teignmouth, with her two sons and one daughter.
Father's Occupation: Captain, Durham Light Infantry. He was a student at Cambridge University at the time of his son's birth.
Education: Early details unknown; RMA Sandhurst, 2 August, 1869-31 December, 1870.
Service Record: Commissioned as an ensign, 1st/24th Regiment of Foot, 23 September, 1871; lieutenant, 28 October, 1871; served Malta, 1872, Gibraltar, 1872, Cape Colony, 1875-7 (expedition to Griqualand West, 1875), Natal, Transvaal and Zululand 1877-9 (OC 1st Squadron Mounted Infantry, present at battles of Kambula and Ulundi); served 2nd Campaign against Sekukuni, 1879; captain, 19th May, 1880; adjutant, 4th Volunteer Battalion South Wales Borderers, 19 September, 1881-18 September, 1886; major, 2nd November, 1885; lieutenant colonel, 2nd South Wales Borderers, 8 April, 1893; DAAG, Musketry, Bengal, 3 November, 1891-7 July, 1892; colonel, 8 April, 1897; OC 24 Regimental District, Brecon, 8 April, 1897; AAG North East District, 4 March, 1900-6 September, 1902; temporary brigadier-general, 7 September, 1902; GOC 5th Army Corps, York, 1902; brigadier-general, 6th & 11th Brigades, 2nd Army Corps, Southern Command, 10 November, 1903-9th November, 1906; retired, 10 November, 1906; Honorary Colonel West Yorkshire Regiment, 2nd Volunteer Battalion, 3 December, 1902 until his death.
Decorations, Medals and Rewards: Victoria Cross (for action at Hlobana, Zululand, 29 March, 1879); CB (L.G. 24 June, 1904); South Africa Medal (clasp for 1878-9); Diamond Jubilee Medal (1897); M. in D. (Zulu Campaign).
Post-Service Employment: Retired General Officer.
Married: Amelia Wright, at Edinburgh, 6 November, 1879.
Children: Two sons and two daughters.
Died: Montreux, Switzerland, 16 July, 1907. His address at this time was Gun House, Portsmouth.
Buried: Commune de Chatelard, Clarens, Switzerland. The grave was re-used in 1991.
Memorials: The headstone at Commune de Chatland, Switzerland, was removed and the plot grassed over in 1962. Plaque in the Garrison Church, Portsmouth.
Location of VC: South Wales Borderers Museum, Brecon.
Citation for VC: London Gazette, 17 June, 1879.
"For his gallant conduct on 29th March, 1879, when the Mounted Infantry were being driven in by the enemy at Inholbana, in galloping back and twice assisting on his horse (under heavy fire and within a few yards of the enemy) one of the mounted men who must otherwise have fallen into enemy hands."

[Information supplied by W. Alister Williams from his book "The VCs of Wales and the Welsh Regiments" which is due to be reprinted under the title "Heart of a Dragon - the VCs of Wales and the WelshRegiments. "]

Brigadier General Browne was resident at Gun House on Hampshire Terrace (now part of Portsmouth University) whilst GOC Portsmouth.