Location
The plaque is on the back of one of the choristers stalls in the chancel.
South side, back row, twelfth from the west end.


Memorial
Portrait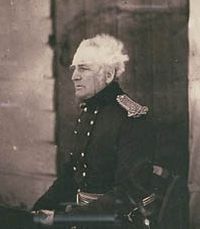 Portrait of Sir George Brown, 1855
From the Roger Fenton Catalogue
The Library of Congress
Rep.No. LC-USZC4-9250


Inscription
GENERAL THE RT. HON.
SIR GEORGE BROWN
G.C.B., K.H. DIED AUGUST
27 1865 AGE 75
DD: COL. G.H.S. WILLIS
C.B., QR. MAS GENERAL
SOUTHERN DISTRICT.

Further Information

Sir George Brown served at the siege and capture of Copenhagen in 1807; in the Peninsular from July 1813 to May 1814, including the battle of Vimiera, passage of the Douro and capture of Oporto, with the previous and subsequent actions; battle of Talavera (severely wounded through both thighs), action of the Light Division at the bridge of Almeida, battle of Busaco, the different actions during the retreat of the French army from Portugal, action at Sabugal, battle of Fuentes d'Onor, siege of San Sebastian, battles of Nivelle and Nive and the investment of Bayonne. Sir George served afterwards in the American War, and was present at the battle of Blandensburg and capture of Washington, was slightly wounded in the head and very severely in the groin at Blandensburg. This hero of 100 fights commanded the Light Division throughout the Crimean War. He received the War Medal with seven clasps for the Peninsula and a medal with four clasps for service in the Crimea, was made G.C.B. and presented with the highest French service and Turkish decorations. After the war, Sir George commanded the troops in Ireland.
[From the 1873 Guide to the Church]

See Also
Wikipedia