Location
At the English Heritage store, Fort Brockhurst, Gosport


Description
The memorial is now in six pieces with significant sections completely lost.


Memorial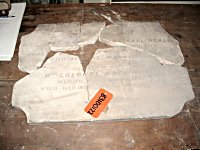 (From the 1873 Guide)
IN MEMORY OF
COLONEL DAVID JAMES BALLINCALL
COMMANDANT OF THE
WOOLWICH DIVISION OF ROYAL MARINES
WHO DIED 31ST MARCH 1846

ALSO OF
MRS COLONEL BALLINCALL
WIDOW OF THE ABOVE
WHO DIED 5TH DECEMBER 1859

Further Information

Some doubt is thrown over the accuracy of the date of death quoted on the memorial. The Historical Manuscripts Commission has an entry for David James Ballingall, Captain in the Royal Marines but gives his date of death as 1864. The entry is for a document written in 1841-42 which would mean he had to have risen from Captain to Commandant in the four years to 1846 if that date is correct.