Location
The plaque is on the back of one of the choristers stalls in the chancel.
North side, back row, twelfth from the west end.


Memorial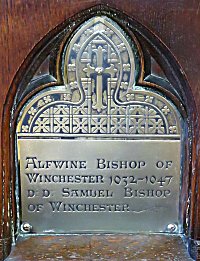 Inscription
ALFWINE BISHOP OF
WINCHESTER 1032-1047
DD: SAMUEL BISHOP
OF WINCHESTER.

Further Information

Alfwine was a renowned and successful warrior against the Danes. He held the See from 1038 to 1047.