Location
At the English Heritage store, Fort Brockhurst, Gosport [EH Ref No. 87900113]. This memorial plaque was originally sited on one of the benches in the nave. This area of the church suffered the worst effects of the bombing in 1941.


Description
The memorial is made of metal and is in reasonable condition.


Memorial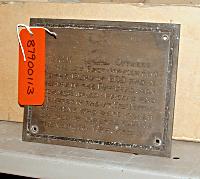 Inscription
D.D. OFFICERS OF THE IX TH. (EAST NORFOLK REGT. )
TO THE GLORY OF GOD AND IN MEMORY OF THE OFFICERS,
NON - COMMISSIONED OFFICERS AND PRIVATES OF THE
IX (EAST NORFOLK) REGT WHO WERE KILLED OR DIED OF
DISEASE DURING THE CRIMEAN WAR.