Location
There are three plaques associated with this window, which is the most westerly of the two in the north wall of the Chancel. The 67th Regiment plaque is immediately below the current window which replaced the original that was lost in 1941. The 8th Army plaque is situated below the window opening. Originally two plaques were placed beneath the window, both relating to the 67th Regiment. The upper remains in place, the lower is lost.


Memorial
New Window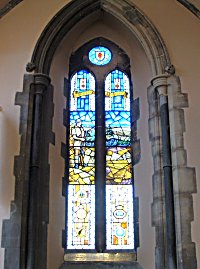 Inscription (Plaque 1)
TO THE MEMORY OF 11 OFFICERS AND 361 NCO AND MEN OF THE 67TH SOUTH HAMPSHIRE REGT. WHO DIED ON FOREIGN SERVICE DURING THE YEARS 1858 - 1865 IN INDIA CHINA AND THE CAPE

Inscription (Plaque 2)
-
(From the 1873 Guide)
PAYMASTER J.A. POPE
ENSIGN & ADJT. C.V. KILLEEN
LIEUT. C.H.B. TURNER
CAPTAIN W.S. ARNOLD
LIEUT C.U. CREYKE
CAPTAIN C.U. COXEN
CAPTAIN A.F. ROBERTSON
CAPTAIN M. NUGENT
ENSIGN F.T. BLAKE
ENSIGN J.H.A. ROUTLEDGE
CAPTAIN G.F.H. ATCHISON


13TH OCT. 1860
23RD MAY 1862
17TH NOV. 1867
10TH AUG. 1859
9TH NOV. 1862
28TH FEB. 1864
24TH JULY 1863
20TH OCT. 1862
27TH SEPT. 1862
not known
21ST JULY 1861


HOME
TIEN TSIEN
TIEN TSIEN
BARRACKPORE
ADEN
HOME (ON LEAVE)
SHANGHAI
TAKU
HONG KONG
ON PASSAGE HOME
TIEN TSIEN

Inscription (New plaque)
1941 [SHIELD] 1945
This window was installed by Portsmouth District 8th Army Old Comrades Association in Perpetual Remembrance of our comrades who died for their country Whilst serving in the 8th Army and supporting sea and Air forces in Egypt, Alamein, Tunisia, Sicily and Italy.

1941 TO 1945
Dedicated by our Padre Rev George Hughes and unveiled by Field Marshal Lord Carver GCB,CBE,DSO,MC
On 8th July 1984
'They shall not grow old as we who are left grow old age shall not weary them, nor the years condemn, At the going down of the sun and in the morning we Shall remember them'.

Further Information
[Extract from document accompanying the plaque]

"The reforms of 1881 saw the 67th joined with the North Hampshire Regiment to create the 1st and 2nd battalions of the Hampshire Regiment.

The Royal prefix was awarded in 1946.

During the China War of 1860, four men of the 67th won the Victoria Cross in the attack and capture of the Taku Forts.

Lieut. E.H. Lenon
Lieut. N. Burslem
Ensign J. Chaplin
Pte T. Lane

This action was fought on 21st August 1860. All survived although Lane, Burslem and Chaplin were severely wounded. Ensign Chaplin was born at Ewhurst Parks, Hampshire in July 1840."