Location
At the English Heritage store, Fort Brockhurst, Gosport [EH Ref No. 87900116]


Description
The memorial is made of metal and is in reasonable condition.


Memorial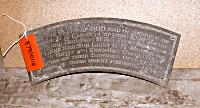 Inscription
TO THE GLORY OF GOD AND IN MEMORY OF
CAPTAIN D.G. CLERY, CAPTAIN E. M. KEMP,
LIEUT AND ADJUTANT H.A.G. TODD, SURGEON J. B. LANE,
AND SUB LIEUT G.A. MONROE,
OF THE 1ST. BATTN. 4TH. (KINGS OWN ROYAL) REGT.
ERECTED BY THEIR BROTHER OFFICERS
AS A MARK OF THEIR GREAT REGARD 1874.

Further Information
A ledger still in the church records this memorial as being originally associated with the font.

The King's Own Royal Regiment are based at Lancaster Priory. Their website contains a history of the regiment.

The Curator of the Regimental Museum is able to say that the King's Own were stationed in Portsmouth from August 1872 to March 1874 and then Gosport from March 1874 to September 1874. Captain Daniel Green Clery served with the King's Own from 1855 until his death on 26th March 1869. Henry Arthur Grey Todd served with the King's Own from 1855 until he left in 1868. Edgar Montagu Kemp served with the King's Own from 1860 until he retired in 1872. Benjamin Lane was surgeon from 1860 until 1874 when he was transferred to Woolwich. There is no record of Sub Lt G A Monroe as having served with the Regiment.