Location
At the English Heritage store, Fort Brockhurst, Gosport [EH Ref No. 87900141].
The plaque was originally associated with the west window.


Description
The memorial is made of metal and is in poor condition.


Memorial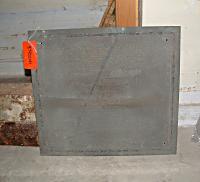 Inscription
THIS WEST WINDOW OF THIS CHURCH WAS ERECTED
TO THE MEMORY OF THE FOLLOWING OFFICERS,
NON-COMMISSIONED OFFICERS, BUGLERS AND PRIVATES
OF THE 43RD. MONMOUTHSHIRE LIGHT INFANTRY
WHO WERE KILLED IN ACTION OR DIED OF WOUNDS
DURING THE NEW ZEALAND WAR OF 1863 TO 1866.

LIEUTENANT-COLONEL H.J.P. BOOTH
CAPTAIN G. R. MURE
CAPTAIN R.F.T. HAMILTON
CAPTAIN F. UTTERTON
CAPTAIN A. R. CLOSE
LIEUTENANT F. G. E. GLOVE
ENSIGN G. I. LANGLANDS
SERGEANT MAJOR J. VANCE
SERGEANT M. CLIFFORD
CORPORAL J. WHEELER
BUGLER J. BLACKWALL
PRIVATE J. AUDLEY
PRIVATE G. BRADBROOK
PRIVATE S. BOLTON
PRIVATE P. FITZGERALD
PRIVATE H. GOFF
PRIVATE J. HOLBROOK
PRIVATE J. HOLOHAN
PRIVATE S. HORNSBY
PRIVATE R. JOHNSON
PRIVATE I. LANE
PRIVATE T. MADDEN
PRIVATE J MAHER
PRIVATE J. MCGUIRE
PRIVATE R. PHELAN
PRIVATE F. PRATT
PRIVATE G. ROBBINS
PRIVATE F. TRANN
PRIVATE W. H. VARLOW
PRIVATE H. WILKINSON

Further Information
The 1873 Guide to the Church notes that the window to which this memorial refers was considered as a work of art of the highest merit. It was said to resemble the much admired East window of Castle Combe Church, save that the lancets are not trefoiled. This window was lost in the bombing of 1941.