Location
The church was originally built just outside the Dockyard walls between what was then Anchorage Road and Lennox Road. In 1907 the Dockyard wall was extended to encompass the church.


WW1 Memorial
Memorial Reredos
Reredos In Situ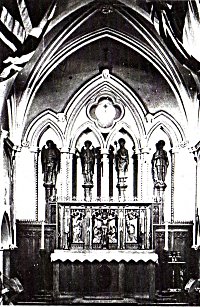 Church Exterior
Transcription

THIS REREDOS
WAS ERECTED TO THE
GLORY OF GOD
-- AND --
IN SACRED MEMORY OF
OFFICERS AND MEN
OF PORTSMOUTH
PORT DIVISION
WHO GAVE THEIR LIVES IN
THE GREAT WAR
1914-1918
R.I.P.
Further Information

Holy Trinity was the third Anglican church to be built in Portsea. The foundation stone was laid on 20th June 1839, but it was not consecrated until 30th September 1841, the same day as St James' Milton. In 1854 Thomas Platt was appointed vicar which made Holy Trinity the first Anglo-Catholic church in Portsmouth. The church was restored in 1877 but by 1906 it fell out of use and in 1907 it was sold to the Admiralty at a time that the Dockyard walls were being extended, cutting it off from Portsea. For the next 34 years it served as the Royal Navy Barracks Chapel. In 1941 it was bombed and subsequently demolished, though one wall survives.

The memorial plaques, the Reredos and other items were salvaged from the ruin and stored in the Royal Navy Trophy Room (see below). One plaque and the reredos (see photos) have been lent to the Dockyard Apprentice Museum, Boatshed No. 7, Portsmouth Dockyard, for display (as of March 2007).

The records of Baptisms (1841-1906) and Marriages (1845-1905) at the church are held at Portsmouth Record Office.

Addendum

Investigations at the Royal Navy Trophy Room have found no record of the Holy Trinity artefacts, despite the inscription by the Apprentice Museum plaque. It is not known why this should be.

Further evidence of the fate of items from the Holy Trinity Church come in a book entitled "A History of The Royal Naval Barracks, Portsmouth" by Instructor Lieutenant D.J. Dwyer published in 1961. In it Dwyer states that two chalices, a white ensign from HMS Suffolk, a tablet commemorating those killed in the Yangtse River action in April 1949 and another plaque to Commodore S.M. Login, the first Commodore of the Barracks were salvaged from the church and deposited in "The Chapel of St George". No such chapel exists in any Naval building in Portsmouth as far as is known. We welcome further information on these matters.