Location
South wall of Christ Church, Portsdown


Windows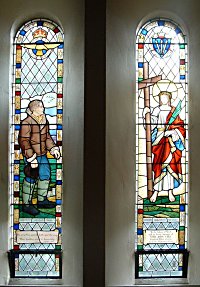 Inscription (Left Window)

HE AS HE FLEW, PASSED DEATH UPON THE WING
THERE, DEATHLESS, RISE TO IMMORTALITY.
SEYMOUR COCKS.


Inscription (Right Window)

TO THE GLORY OF GOD
AND IN LOVING MEMORY OF
NOEL JOHN LAKE
SERGEANT PILOT RAFVR
DIED 6TH SEPTEMBER 1941.


Further Information
Details from the Commonwealth War Graves Commission register:

Son of Frank Ernest and Mary Emma Louise Lake; husband of Kathleen Lily Lake, of Shirley, Warwickshire. A.S.A.A.

Cemetery: REICHSWALD FOREST WAR CEMETERY, Kleve, Nordrhein-Westfalen, Germany
Grave or Reference Panel Number: 25. C. 13.

Further details can be found on Bob Hunt's Portsdown Tunnels website.