Description & Location
The Memorial consists of a wooden reredos which is in store, a brass plaque which used to be on the reredos but is now situated in the Gallery adjacent to the Organ and a lancet window in the centre of the east end of the church (see Cathedral Plan).


Memorial Plaque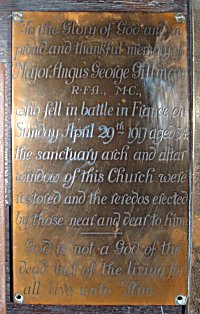 Memorial Reredos (Part)
Memorial Window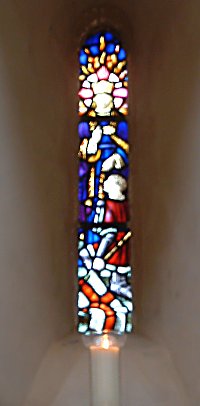 Memorial Window (Detail)
Gillman Family Grave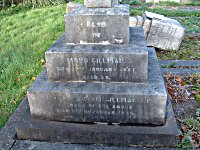 Inscription
To the Glory of God and in
proud and thankful memory of
Major Angus George Gillman
R.F.A. M.C.
who fell in battle in France on
Sunday April 29th 1917, aged 34
the sanctuary arch and altar
window of this church were
restored and the reredos erected
by those near and dear to him
__________

God is not a God of the
dead but of the living for
all live unto Him

Further Information

Angus George Gillman was a Major in the Royal Field Artillery who died on 29/04/1917 at the age of 34. He is buried at Ecoivres Military Cemetery, Mont-St Eloi. He was the son of William and Maud Gillman, of Portsmouth. In Kelly's 1912 Directory William Gillman is shown as a JP living at 47 Clarence Parade, Southsea. William and Maud Gillman paid for this memorial to their son in the form of a reredos and lancet window in the Cathedral which in 1920 was still St Thomas's Parish Church. The memorial was dedicated on 29th February 1920.

The installation of the various aspects of the memorial took place at the same time as some structural work was being carried out by the architect. During this operation original parts of the early church were uncovered including the lancet window which was incorporated into the memorial. The stained glass image in the window depicts Major Gillman as St George kneeling before Christ.

In the late 1920s William and Maud Gillman were asked to fund further modifications to the east end of the church which they appeared pleased to do.

It is not known when the reredos was removed and placed in store.

Major Gillman is one of 81 names to appear on the World War 1 Memorial outside the Cathedral and he is listed on the Guildhall Square Cenotaph.

The Gillman Family Grave

The Gillman family grave is in Highland Road Cemetery. There is a memorial to Major Gillman on the headstone, part of which reads as follows:-

"Maud Gillman, died 27th January 1927, aged 67. Also of William Gillman J.P., husband of the above, died 11th November 1935, Aged 82 years. Also Angus George Gillman M.C., Major Royal Field Artillery, Their only son, Served in France 1914 - 1917, Killed at Vimy 29th April 1917, Aged 34."