Location
The church was originally built as the Garrison Church to Hilsea Barracks in 1888 but was not consecrated to St. Barbara until the RAOC took over the base in 1921. The Barracks closed in 1962 when the memorials were transferred to the Garrison Church, also known as St. Barbara's, at Deepcut Barracks. The Garrison Church at Hilsea was demolished shortly afterwards.


St. Barbara's Church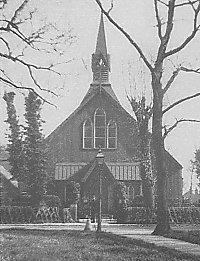 Church Interior
St. Barbara's, Deepcut
The Memorials

QM Sergeant G. Adshead & Staff Sergeant AV Tarnow
Captain Lancelot Robinson
Maj. Gen Sir John Steevens
Maj. Gen Sir Francis E. Mulcahy K.C.B.
Maj. Gen. Charles Gilchrist Jeans
Officers and Men, RAOC, WW1
Officers of 17 Advanced Ordnance Depot, RAOC
The US Army at Hilsea Barracks - WW2
Saint Barbara
White Ensign
The Organ
The Font
Major General Sir Harold Parsons
Major General Sir Charles Massey Matthew
The Great War Memorial

Further Information
When St. Barbara's, Hilsea was vacated, a documentary record of the memorials in the form of an inventory was taken. This is now held at the Royal Army Chaplains Museum at Amport House, Andover. In addition to the memorials mentioned above it records the presence of a pulpit presented to the RAOC in memory of Brig. General C.C. Wrigley, CB 1934, a Silver Chalice given in memory of Rev F.C. Wright, CF 1910, by the congregation and a Processional Cross dedicated to Major F. Costigan 1953. The locations of the first two are not known; the Cross is held at Deepcut.

Photographs of the barracks and some of the personnel at Hilsea can be seen on the History In Portsmouth website.