Location
On Clarence Esplanade, Southsea close to the Hovercraft Terminal.

Description
The memorial is a tapering granite pier with polished granite panels. Cornice with shell ornamentation to frieze. Surmounted by bronze trophy, the metal from a gun captured at Lucknow, The memorial rests on a stepped plinth with cannon bollards at the four corners.The wording is very weathered.


Memorial (in 2005)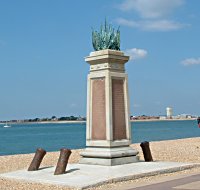 Memorial (in 2002)
Memorial (in 1971 ©PCC)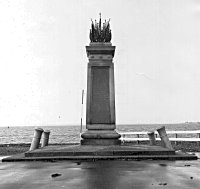 Memorial (in1876)
Portrait of Captain Peel
HMS SHANNON
SPECIFICATIONS
Displacement - 2,667tons
Dimensions - 235x50ft
Armament - 30 8in, 1 68pdr, 20 32pdr
Launched - 12.11.1855
Builder - Portsmouth Dockyard
Fate - broken up, 31.5.1871
Inscription (North side)
SACRED
TO THE MEMORY OF
CAPTN. SIR WM PEEL K.C.B.
CAPTN. THOS. GREY
MR. M.P. GARVEY MATE
MR. M.A. DANIEL MID
THE SEAMEN AND MARINES
OF THE SHANNON NAVAL BRIGADE
WHO FELL WHILST EMPLOYED IN
N.W. PROVINCES OF INDIA
DURING THE MUTINY AD 1857
AS A TRIBUTE TO THEIR GALLANTRY
THIS MONUMENT IS ERECTED
BY THE OFFICERS AND CREW
OF HMS SHANNON
1860

Inscription (East side)
KILLED IN ACTION
2 OFFICERS 6 SEAMEN 2 MARINES
DIED OF WOUNDS
9 SEAMEN 1 MARINE
DIED OF DISEASE
2 OFFICERS 70 SEAMEN 11 MARINES
WOUNDED
7 OFFICERS 34 SEAMEN 3 MARINES
COME WE BLESSED OF MY FATHER
INHERIT THE KINGDOM PREPARED
FOR YOU FROM THE FOUNDATION OF
THE WORLD

Inscription (South side)
THE TROPHY
IS MADE FROM A GUN
CAPTURED AT LUCKNOW
AND PRESENTED
TO THE SHANNON BRIGADE
BY GEN. LORD CLYDE G.C.B.
COMMANDER IN CHIEF
OF THE ARMY

Inscription (West side)
THE SHANNON'S NAVAL BRIGADE
WITH 6 8 INCH GUNS AND
FOUR FIELD PIECES
LEFT CALCUTTA
FOR THE N.W. PROVINCE
AUG 13 1857
SERVED AT THE BATTLE OF KEDJIVA
OCTOBER 1857
RELIEF OF LUCKNOW NOV 1857
DEFEAT OF THE GWALIOR CONTINGENT
DEC 1857
BATTLE OF KALLEE-NUDDEE
JAN 1858
CAPTURE OF LUCKNOW MARCH 1858
AND RETURNED TO THE SHANNON AUG 1858

Further Information

OFFICERS OF THE SHANNON'S NAVAL BRIGADE
FIRST PARTY, LEFT SHIP AUGUST 18,1857
NAME AND RANK

Captain William Peel
Lieutenant Thomas James Young
Lieutenant William Charles Fahie Wilson
Lieutenant Edward Hay
Lieutenant Nowell Salmon
Lieutenant Axel L Lind of Hageby
Chaplain Rev Edward Lawson Bowman
Assistant Surgeon James Flanagan
Assistant Paymaster William Thomas Comerford
Asst Engineer, 1st Class Frederick William Brown
Asst Engineer, 3rd class John William Bone
Asst Engineer, 3rd Class Henry Alphonse Henri
Midshipman Henry P Garvey
Midshipman Martin Abbot Daniel
Midshipman Edward St John Daniel
Midshipman Lord Walter Talbot Kerr
Midshipman Lord Arthur Pelham Clinton
Midshipman Edmund John Church
Naval Cadet Henry A Lascelles
Naval Cadet Edward S Watson
Assistant Clerk James Edward Stanton
Gunner Robert Thompson
Carpenter 2nd Class Henry Brice


REMARKS

KCB 21 JAN 1858 and died 27 APR 1858
Commander 22 MAR 1858 and VC 16 NOV 1857
Commander 22 MAR 1858
Commander 22 MAR 1858
Commander 22 MAR 1858 and VC 16 NOV 1857
Lieutenant, Swedish Navy, serving as a supernumerary Midshipman

Passed for Surgeon 3 AUG 1859
Paymaster 22 MAR 1858
Acting Chief Engineer 22 MAR 1858
Acting Asst Engineer 1st class 22 MAR 1858
Acting Asst Engineer 2nd class 22 MAR 1858
Acting Mate: Killed in action 11 MAR 1858
Killed in action 16 NOV 1857 at Lucknow

Acting Mate 28 SEP 1858
Invalided 04 JUL 1858

Midshipman 10 SEP 1858
Midshipman 10 SEP 1858
Clerk 29 NOV 1858
In charge of stores at Allahabad
Carpenter 1st class 22 MAR 1858


Seamen - 329
Marine Officers, Captain Thomas Carstairs Gray, Lieutenant William Stirling
NCO's and Privates 54
Also a surgeon and staff of apothecaries from the Indian Army attached to the Brigade.
REPORT OF THE BATTLE OF KHUJWAH BY CAPTAIN WILLIAM PEEL

Captain Peel to Major-General Mansfield, Chief of Staff.
Camp, Futtehpore, November 3, 1857

Sir,
I have the honour to lay before His Excellency the Commander-in-Chief the details of the battle of Khujwa, with the circumstances that preceded it.
Detachments amounting to 700 men, under the command of Lieutenant-Colonel Powell of HM 53rd Regiment, in charge of siege train guns and a large convoy, were proceeding from Allahabad to Cawnpore, and had arrived on 31st October, after a march of twelve miles, at the camping ground of Thurrea (Thariaon). The same afternoon intelligence was received from Futtepore that sepoy mutineers of the Dinapore Regiment, with three guns, had passed the Jumma with the intention of either attacking Futtehpore or crossing over into Oude. The camp was immediately struck, and we arrived at the camping ground of Futtehpore at midnight.

Colonel Powell then made arrangements for marching at daylight upon the enemy, who were reported to be about 24 miles distant at Khujwa, beyond the village of Binkee (Bindki). The column of attack consisted of 162 men of HM 53rd Regt., under Major Clarke, 68 of the Royal Engineers under Captain Clerke, 70 of a depot detachment under Lieutenant Fanning of HM 64th Regt., and 103 of the Naval Brigade under Captain Peel. It marched at daylight and was joined from the garrison of Futtehpore by a company of the 93rd Highlanders, 100 in number, under Captain Cornwall, and two 9-pounder guns under Lieutenant Anderson, Bengal Artillery.

After marching for 16 miles the column halted for refreshment, and then resumed the march at a rapid pace, passing through the village of Binkee at about 1-30pm, where the intelligence was confirmed that the enemy was at hand. The troops pressed on without interruption; the Highlanders advancing in skirmishing order, supported by the Royal Engineers and followed by the 53rd Regt. in column, and then by the Naval Brigade. The depot detachment was with the baggage. We advanced along the road which led straight for the village of Khujwa, and saw that the enemy's right occupied a long line of high embankment on our left of the road, which embankment, screened by a grove, continued towards the village; and that their left was higher up on the other side, with their guns posted in the centre on the road - two of them in advance, and one on a bridge near the village.

A round shot coming down the road coming down the road opened the battle at about 2.20pm, and the column was ordered to edge to the right and advance on the guns through the cornfields - the skirmishers of the 93rd and the Royal Engineers pushing on both sides of the road. The enemy's artillery was well served and did great execution, and the flank fire of the musketry was very severe. The gallant Colonel Powell, himself on the left of the road, pressed on the attack, and had just secured two guns of the enemy, when he fell dead with a bullet through his forehead.

In the meanwhile, the Naval Brigade had advanced on the right of the 53rd and carried the enemy's position in their front. It was then that the death of Colonel Powell was reported to me, and I was requested to assume command.

The great force of the enemy, the long line of their defences, and the exhaustion of both officers and men after such long marches, rendered our position truly critical. The front of the battle had become changed to the line of the road, and the enemy, with all their force behind their embankments, threatened to intercept our rear. I left Lieutenant Hay, RN., supported by the two 9-pdr. guns, to hold the position which his party had gallantly carried, and which secured our flank; and collecting as many fresh troops as were available, assisted principally by Lieutenant Lennox, Royal Engineers (Captain Clerke being unfortunately severely wounded), and by Ensign Truill, (who had been promoted to Lieutenant on September 29th) of the 53rd, we rushed across the road, and passing round the upper end of the embankments, divided the enemy's force and drove them successively from all their positions. The enemy then retired in confusion, leaving us masters of their camp and with two of their guns and a tumbrel in our possession.

The late hour of the evening (it was half past four when the enemy fired their last shot) and the excessive fatigue of the troops prevented any pursuit; we therefore spoiled their camp and, leaving it with cheers, formed on the road by the bridge near the village and sent out parties to collect our dead and wounded.

With the body of the Colonel on the limber of the gun he had so gallantly captured, we then returned and encamped near the village of Binkee. Our loss in the action was very severe, amounting to 95 killed and wounded.

The behaviour of the troops and of the Naval Brigade was admirable, and all vied with each other and showed equal courage in the field. The marching of the 53rd and the accurate firing of the Highlanders deserving especial commendation.

I received the greatest assistance from Captain Cox, HM 75th Regiment., whom I would wish to bring to the favourable notice of H.E. the Commander-in-Chief, and the arrangements of the field hospital under Dr. Grant, HM 53rd, and those of the Quarter-master's Department under Captain Marshall, were everything that I could wish.

The total number of the enemy was reported to be about 4,000 men, 2000 of whom were sepoys who fought in their uniform. Their loss was estimated at about 300 killed.

I have, etc., WILLIAM PEEL, Captain, RN., Commanding

NAVAL BRIGADE KILLED AND WOUNDED AT KHUJWA ON NOVEMBER 1ST, 1857


Rank and Name

Edward Hay. Lt. RN
William Stirling. Lt. RM
William Ballard. OS
John Connor. OS
Morris Currun (Curran) AB 1
James Finder. AB
James French. AB 2
Edward Baker. Capt. A.G.
John Jordan. OS 1
William O'Niell. AB 3
John Metcalfe. OS
Thomas Langston. RM 2
William Ashton. AB 1
Richard Kelly. RMA
Alexander Hewston (Huston). Ldg. Sea.

1Died a few days later


Nature of Wound

Slight graze on back of hand
Gun shot wound through calf of leg
Ditto
Ditto, flesh part of arm
Ditto, fleshy part of thigh
Ditto., contusion of abdomen
Ditto, wound in front of ankle joint
Ditto., through soft part of back of thorax
Ditto., through left lung
Ditto., fleshy and upper third of thigh
Ditto., through left buttock
ditto., below left malleolus, fleshy
ditto., through left temporal bone
ditto., through femoral artery
Round shot through abdomen

2Invalided


Remarks

Doing well
Ball passed out. Doing well
Ditto
Ball not detected. Doing well
Ball lodged. Injury severe
Quite well
Ball passed out; injury severe
Ball not detected; injury severe
Ball passed out; injury dangerous
Ball lodged; injury severe
Ball extracted. Doing well
Ditto.
Mortally, not expected to live
Died on the field
Died on the field

3 Died January 15th, 1858



NEWS OF THE DEATH OF CAPTAIN PEEL

Commander Vaughan to Commander Watson. Gyah, May 6, 1858.
Sir,
I deeply regret to inform you of the death of Captain Sir William Peel, KCB, of HMS Shannon, which occurred at Cawnpore on the 27th ult. from small pox.
I have given myself a commission to act as Captain of the Shannon until the pleasure of his Excellency Sir Michael Seymour is known, as I consider the presence of an officer of that rank is necessary with the Brigade.
I have, etc., Jas. W. Vaughan, Act. Captain. Commanding Shannon's Naval Brigade.

Sir William Peel had arrived at Cawnpore on 19th April 1858 and was looked after by Padre Moore and his wife in their home, the old ruins of General Wheeler's bungalow.

VICTORIA CROSSES WON BY THE SHANNON NAVAL BRIGADE

Captain Peel and Edward Daniel had already been awarded VCs in the Crimea, but the Naval Brigade were awarded a further five during the Indian Mutiny. They were to:-
Lieutenant Thomas Young; On 16 November 1857 at Lucknow, India, naval guns were brought up close to the Shah Nujeff mosque, and the gun crews kept up a steady fire in an attempt to breach the walls, while a hail of musket balls and grenades from the mutineers inside the mosque caused heavy casualties. Lieutenant Young moved from gun to gun giving encouragement, and when he and Able Seaman Hall were the only survivors, all the rest being killed or wounded, Lieutenant Young took the last gunners place and between them they loaded and fired the gun.
Lieutenant Nowell Salmon; For conspicuous gallantry at Lucknow, India, on 16th November 1857, when Captain Peel called for volunteers to climb a tree which was overhanging the wall of the Shah Nujeff, in order to spot the enemy position and to dislodge the mutineers who were throwing bombs and firing on the ground crews below. Lieutenant Salmon and Able Seaman John Harrison responded to the call and succeeded in carrying out this dangerous task. John Harrison was killed and Lieutenant Salmon was fired upon and wounded in the thigh.
Leading Seaman John Harrison; On 16th November 1857 at Lucknow, India, were called for to climb a tree near the wall of the Shah Nujeff mosque in order to spot the enemy's position and then to dislodge the mutineers who were throwing grenades and firing on the gun crews below. Leading Seaman Harrison, together with the Lieutenant Salmon responded to the call and succeeded in performing this dangerous service, but the lieutenant was wounded in the thigh and John Harrison was killed.
Able Seaman Hall; On 16th November, 1857 at Lucknow, India, naval guns were brought up close to the Shah Nujeff Mosque, and the gun crews kept up a steady fire in an attempt to breach the walls, while a hail of musket balls and grenades from the mutineers inside the mosque caused heavy casualties. Able Seaman Hall and Lieutenant Young, in command of the gun crews were, after a time, the only survivors, all the rest having been killed or wounded, and between them they loaded and served the last gun. [Hall, a Canadian, was the first non-white man to win the Victoria Cross]
Able Seaman Edward Robinson; On 13th March 1858 at Lucknow, India, some sandbags on top of the earthworks were on fire. The enemy were only 50 yards away at this time, but able Seaman Robinson, under heavy fire, jumped up and extinguished the fires in some of the bags and threw others clear. He was severely wounded.

THE MEMORIAL

The officers and crew of HMS Shannon raised £350 to erect a monument to Sir William Peel and in memory of those who died during the campaign in India. It was the intention that the memorial would stand in front of the Royal Naval College in Portsmouth Dockyard. Originally there was a small gun captured at Lucknow and placed at the base of the monument and presented, as a trophy to the Shannon's Naval Brigade, by Lord Clyde GCB (formerly Sir Colin Campbell).

REFERENCES

Volume 7 of William Laird Clowes "The Royal Navy: a history from the earliest times to the death of Queen Victoria" contains an account of the contribution of the Naval Brigades to the suppression of the Indian Mutiny.

The following web sites contain information about Captain Sir William Peel, third son of Sir Robert Peel, who died at the age of 33 years following a distinguished career, during which he won the Victoria Cross in the assault of the Redan at Sevastopol in the Crimea, before going on to take part in the actions in India:
National Maritime Museum
The Sandy Community Web site

A memorial plaque to Captain William Peel, in the Royal Garrison Church, was destroyed when the church was bombed in 1941.

In 2005 the Shannon memorial was moved some 120 metres eastwards along the seafront to make way for an expansion of the hovercraft terminal. There was some debate at this time about the number, provenance and position of the cannon at the base of the memorial. They were originally thought to have come from the Crimean War but this is now in doubt; there is also a possibility that there were originally six cannon, the 1876 image clearly showing four at the corners and possibly one each on the east and west sides.

[Thanks to Brandon Smith and Jennifer Stringer for providing information for this page]