Location
On Clarence Esplanade/Southsea Common.

Searching for names
To search our database of names inscribed on the memorial, please go to our Searching page. To download a photo of one of the panels go to our Panel Page.


Memorial
Plan
Plaque 1

Inscription
IN HONOUR OF THE NAVY
AND TO THE ABIDING MEMORY
OF THOSE RANKS AND
RATINGS OF THIS PORT WHO LAID DOWN THEIR
LIVES IN THE DEFENCE OF THE EMPIRE AND
HAVE NO OTHER GRAVE THAN THE SEA
Plaque 2
Inscription
GENERAL ACTIONS
AT SEA
HELIGOLAND
28TH AUGUST 1914
CORONEL
1ST NOVEMBER 1914
FALKLAND ISLANDS
8TH DECEMBER 1914
DOGGER BANK
24TH JANUARY 1915
JUTLAND
31ST MAY 1916
Plaque 3

Inscription
SINGLE SHIP ACTIONS
HMS CARMANIA

HMAS SYDNEY

HM SHIPS SEVERN & MERSEY

HM SHIPS ACHILLES & DUNDEE

HM SHIPS SWIFT & BROKE
S.M.S. CAP TRAFALGAR
14.9.1914
S.M.S. EMDEN
9.11.1914
S.M.S KONIGSBERG
6 & 11.7.1915
S.M.S. LEOPARD
16.3.1917
GERMAN T.B.Ds
21.4.1917
Plaque 4
Inscription
ACTIONS WITH ENEMY
LAND FORCES
BELGIAN COAST
DARDANELLES
TSINGTAO
SUEZ-CANAL
ZEEBRUGGE
OSTEND
Plaque 5
Inscription
THE PORTSMOUTH NAVAL MEMORIAL
This memorial commemorates officers ranks and ratings of this Port who died at sea during the wars 1914-1918 and 1939-1945. Actions in which they fought are recorded in the registers and on the memorial itself

Similar memorials at Plymouth and Chatham commemorate men and women of those manning ports while merchant seamen who died from enemy action and have no grave but the sea are commemorated in Liverpool and at Tower Hill in London. The names of those who died during the Second World War whilst serving in the Royal Naval Patrol Service or the Fleet Air Arm and whose graves are unknown are respectively on memorials at Lowestoft and at Lee on-the-Solent.

Other memorials, at Halifax and Victoria in Canada, at Auckland in New Zealand, at Bombay in India, at Chittagong in Bangladesh and at Hong Kong commemorate sailors who came from those parts of the Commonwealth while the Newfoundland Memorial at Beaumont Hamel in France bears the names of 229 Newfoundland sailors lost at sea during the First World War.

Of the 24,588 men and women whose names are on this monument 9,666 died during the First World War and 14,922 including 75 from Newfoundland who served in the Royal Navy during the Second World War. All were buried at sea or were otherwise denied by the fortunes of war, a known and honoured grave.


THIS MEMORIAL WAS BUILT AND IS MAINTAINED BY
THE COMMONWEALTH WAR GRAVES COMMISSION
1914-1918 MEMORIAL
ARCHITECT - SIR ROBERT LORIMER SCULPTOR - HENRY POOLE
1939-1945 EXTENSION
ARCHITECT - SIR EDWARD MAUFE SCULPTOR - SIR CHARLES WHEELER
Plaque 6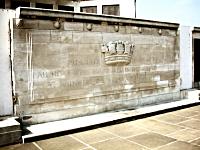 Inscription
1914 - 1918 1939 - 1945

ALL THESE WERE HONOURED IN THEIR GENERATIONS
AND WERE THE GLORY OF THEIR TIMES
Plaque 7
Inscription
THESE RANKS AND RATINGS
DIED ON SHORE BUT HAVE NO KNOWN GRAVE
Panels 33-44
Panels 62 - 91
Further Information
After the First World War, an appropriate way had to be found of commemorating those members of the Royal Navy who had no known grave, the majority of deaths having occurred at sea where no permanent memorial could be provided.

An Admiralty committee recommended that the three manning ports in Great Britain - Chatham, Plymouth and Portsmouth - should each have an identical memorial of unmistakable naval form, an obelisk, which would serve as a leading mark for shipping. The memorials were designed by Sir Robert Lorimer, who had already carried out a considerable amount of work for the Commission, with sculpture by Henry Poole.

After the Second World War it was decided that the naval memorials should be extended to provide space for commemorating the naval dead without graves of that war, but since the three sites were dissimilar, a different architectural treatment was required for each. The architect for the Second World War extension at Portsmouth was Sir Edward Maufe (who also designed the Air Forces memorial at Runnymede) and the additional sculpture was by Charles Wheeler, William McMillan, and Esmond Burton.

In 2013 the CWGC installed a further four Information Boards which tell the stories of some of the men, women and ships commemorated on this memorial.