Location
At the head of the road leading off Eastney Esplanade into the Museum area.



Mortar in 2012
Plaque in 2012
Mortar in 2003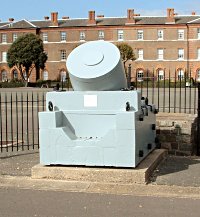 Inscription on Plaque
CAST IRON SEA SERVICE 13-INCH MORTAR
(1855) USED FOR TRAINING PURPOSES BY
THE ROYAL MARINE ARTILLERY AT
EASTNEY

THIS TYPE OF MORTAR WAS DESIGNED TO BE
CARRIED ON A BOMB VESSEL AND USED AS A
BOMBARDMENT WEAPON. ITS RANGE WAS
4000 YARDS (3700 METRES) AND THE SHELLS
POSSESSED GREAT PENETRATION DUE TO THE
HIGH ANGLE OF FIRE.

THE RESTORATION OF THIS HISTORIC EXHIBIT
WAS FUNDED BY COLIN MAITLAND AND THE
FRIENDS OF THE ROYAL MARINES MUSEUM.

Further Information
After the restoration of the mortar the transcript on the plaque was amended to include the last paragraph above.

For more information about mortars in general see Wikipedia.