Location
The memorial plaques are on a wall of the administrative block outside Fratton Park, facing Carisbrooke Road


Memorial 1
Memorial 2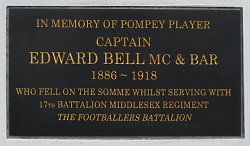 Information Board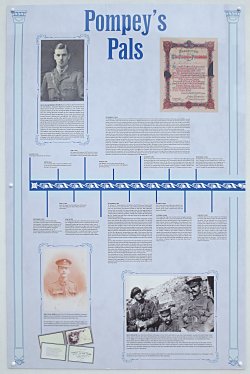 Inscription 1
THE
POMPEY
PALS

IN REMEMBRANCE
OF THOSE MEN WHO VOLUNTEERED TO
SERVE IN THE GREAT WAR 1914 - 1918
WITH THE 14TH & 15TH BATTALIONS
HAMPSHIRE REGIMENT
MANY OF WHOM ENLISTED AT FRATTON PARK


Inscription 2
IN MEMORY OF POMPEY PLAYER
CAPTAIN
EDWARD BELL MC & BAR
1886 - 1918
WHO FELL ON THE SOMME WHILST SERVING WITH
17TH BATTALION MIDDLESEX REGIMENT
THE FOOTBALLERS BATTALION


Further Information
The two memorials were unveiled by Dame Mary Fagan the Lord Lieutenant of Hampshire at midday on the 4th August 2014. The plaques are made of slate and created by Dennis Johns of Stonerite Memorials, who donated his time and skill free of charge.

Two Information Boards site either side of the plaques and tell the story of the Pals Battalion as well as some of the men who served in it.

The unveiling was the culmination of work done by The Pompey Pals Memorial Project. Further information can be obtained at www.pompeypals.org.uk which contains ongoing research into the lives of the casualties from the two battalions.

The memorial to Edward Bell is not directly connected to The Pompey Pals as he served with the the Middlesex (Footballers) Regiment, having previously played for both Southampton and Portsmouth Football Clubs.