Location

On King's Bastion overlooking Spur Redoubt.


Plaque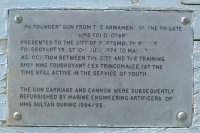 Foudroyant Gun
Inscription
"24 POUNDER" GUN FROM THE ARMAMENT OF THE FRIGATE
HMS FOUDROYANT
PRESENTED TO THE CITY OF PORTSMOUTH BY THE
FOUDROYANT TRUST 10TH JULY 1974 TO MARK THE
ASSOCIATION BETWEEN THE CITY AND THE TRAINING
SHIP HMS FOUDROYANT (EX TRINCOMALEE) AT THE
TIME STILL ACTIVE IN THE SERVICE OF YOUTH.

THE GUN CARRIAGE AND CANNON WERE SUBSEQUENTLY
REFURBISHED BY MARINE ENGINEERING ARTIFICERS OF
HMS SULTAN DURING 1994/95


Further Information

See the Royal Naval Museum information sheet on HMS Foudroyant and HMS Trincomalee and the HMS Trincomalee website.

For details of many guns used on shore and at sea, principally during the 19C see the Palmerston Forts Society website.