Location
In the collonade outside the Naval Museum Shop.


Memorial Plaque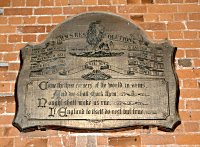 Inscription
H.M.S. RESOLUTION
KENTISH KNOCK 1652
SCHEVENINGEN 1653
NORTH FORELAND 1653
SOLEBAY 1672

BARFLEUR 1692
QUIBERON 1759
COOK'S VOYAGES 1772-9
THE SAINTES 1782

TEXEL 1673
Come the thre corners of the world in arms
And we shall shock them
Nought shall make us rue
If England to itslf do rest but true.
KING JOHN