Location
The Millenium Promenade begins on The Hard, close to the Dockyard Gates and finishes on Southsea seafront. The plaque is set into the pavement by the capstan.


The Plaque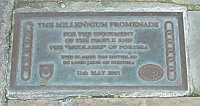 The Beginning
Inscription
THE MILLENIUM PROMENADE
FOR THE ENJOYMENT
OF THE PEOPLE AND
THE "MUDLARKS" OF PORTSEA
THIS PLAQUE WAS UNVEILED
BY LORD JUDD OF PORTSEA
11th MAY 2001




Further Information

The Promenade can be traced by following the links in the chain set into the pavement. It follows a route through some of the oldest parts of the city.