Location
A few yards beyond the end of the Porter's Garden on College Road.


Memorial
The Rock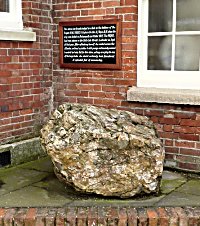 HMS Pique
Inscription
This stone was found wedged in a hole in the bottom of the
Frigate H.M.S. PIQUE, (c/o Captain the Hon. H.J. Rous, R.N.) when the
ship was docked in Portsmouth in October 1835. The PIQUE,
had run ashore in the Belle Isle Straits, Labrador, in Sept.
of that year. After refloating hereself, she sailed across the
Atlantic, without a rudder & with pumps continuously manned
to control her leaks. But for this stone acting as a plug to one
of the larger Holes, she would, certainly have foundered.
A splendid feat of seamanship.
Further Information
HMS Pique was a fifth rate of 1633 tons launched in 1834. The engraving of the ship as she was seen at Spithead in 1836 is held by the National Maritime Museum.

The two photos are published here courtesy of Pauline Powell, Hon Sec., Friends of the Porter's Garden, who advised us that the plaque had been installed (May 2010)