Location
Adjacent to HMS Victory.


Memorial 1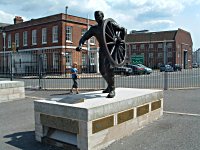 Memorial 2
Inscription 1
THIS BRONZE STATUE AND FIELD GUN
COMMEMORATE THOSE MEN FROM PORTSMOUTH
COMMAND WHO COMPETED IN THE ANNUAL FIELD
GUN COMPETITION AT THE ROYAL TOURNAMENT
AND TRAINED AT "ROYAL NAVAL BARRACKS"
PORTSMOUTH FROM 1947 UNTIL CESSATION OF
THE TOURNAMENT IN AUGUST 1999

Inscription 2
THE PANELS AROUND THE PLINTH DEPICT THE
HISTORY OF FIELD GUN AND COMMEMORATE THE
BRAVERY OF THE BLUE JACKETS WHO TOOK PART IN
THE RELIEF OF LADYSMITH 1899. THE SAME COURAGE
AND COMMITMENT WAS SHOWN THROUGHOUT THE
YEARS OF THE COMMAND FIELD GUN COMPETITION
UNTIL ITS CESSATION IN 1999.
Further Information
There are 8 plaques around the base of each half of this memorial. Those around the field gun competitor illustrate various parts of the competition course. Those around the field gun recount the history of both the origins during the Boer War and the subsequent competition.

There is a further memorial to the Field Gun Command at HMS Excellent.

The official website of the Portsmouth Field Gunners is www.portsmouthfieldgunners.org.uk