Location
Known as the Victory Gates, they give access to the Dockyard from The Hard. Plaques 1 and 3 are on the gateposts whilst Plaque 2 is on the brick wall to the right of the gates.


The Gates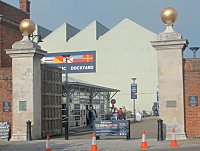 Plaque 1
Plaque 2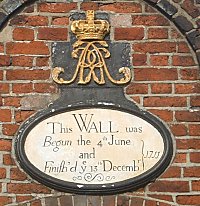 Plaque 3
Inscription (Plaque 1)
MAIN GATE
(1711)
PROTECTED HISTORIC MONUMENT
Inscription (Plaque 2)
This WALL was
Begun the 4th June 1711
and
Finish'd ye 13th Decembr 1711
Inscription (Plaque 3)
IN ORDER
TO MEET THE NEEDS
OF MODERN ROAD TRAFFIC
AND
WITH THE APPROVAL
OF THE LORDS COMMISSIONERS
OF THE ADMIRALTY
THIS GATE
BUILT IN 1711
WAS INCREASED IN WIDTH
FROM 12FT. TO 22FT.
NOVEMBER
1943



Further Information

The Victory Gates now provide access to the Historic Dockyard which includes HMS Victory, HMS Warrior and the Mary Rose. The main entrance to the Naval Base is via the Unicorn Gate on Market Way.