Location
In the passage leading from Queen Street into the Centre.


Sculpture (1)
Sculpture (2)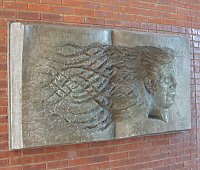 Plaque
Inscription
The Spirit of Portsea has been inspired by the long history of the strong. loyal and loving women who have held the community together over the years.

It was commissioned by Portsmouth City Council in 2010 as the final public artwork for the John Pounds Development.

It is based on ideas developed with Portsea Action Group and was created with the involvement of members of the community by Pete Codling.
Further Information

A second plaque is sited nearby and it states "The Spirit of Portsea was formerly dedicated to the local community by Councillor Margaret Foster and members of the Portsea Youth Club at a naming ceremony on 8th March 2011"