Location
On the main walk through Victoria Park.

Description
Rectangular cement base, white stone plinth, surmounted by tapering rectangular column. Base 860mms square.


Memorial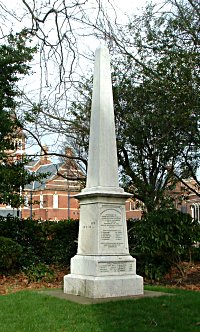 HMS Royal Sovereign c1890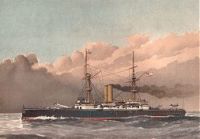 Inscription (Front)

ERECTED BY THE OFFICERS AND MEN
IN MEMORY OF
THOSE KILLED IN
A GUN ACCIDENT ON BOARD
H.M.S. ROYAL SOVEREIGN
OFF PLATCA
NOVEMBER 9th 1901
WHILST DISCHARGING THEIR
DUTY.

CAPT. H.W. SPURWAY, R.M.A.

C. PRIMMER. CH.ARMr.
F. OSBORNE P.O.1stCl.
L. COLBOURNE ARMr.
H. GARDNER P.O.2nd.Cl
C. CONNOR Ld.SEAm.


ALSO TO THE MEMORY OF THOSE
WHO DIED DURING THE
COMMISSION.

Mr.R.E. JOHNSTON M.D
H.J. CUDDLEYFORD M.A W.W. MASON. A.B.
R. HEARD CH.STO. C. NEWMAN A.B.
W. WALKER P.O.1 T.C D. RUNDLE STO.
A. MITCHELL A.B. A. JORDAN. STO.

Inscription (Right)

H.M.S.
ROYAL SOVEREIGN
1899-1902



Further Information
[From the Evening News 11th November 1901]

Disaster of H.M.S. "Royal Sovereign"
Big Gun Explodes - 7 killed. 14 injured

A Reuter telegram from Athens of yesterday's date, states that intelligence has been received there that a big gun burst on board the battleship "Royal Sovereign" as she was manoeuvring outside the harbour of Astakos on Saturday.

One officer and six Marine Artillerymen were killed and the Captain of the ship and 13 sailors were seriously injured. The local authorities state that the accident was due to an Artilleryman having forgotten to shut the breech before the gun was fired. The bodies of the Marine Artillerymen who perished were frightfully mutilated. When the battleship returned to the harbour of Astakos the inhabitants made demonstrations of sympathy.

Captain Spurway R.M.A. and 5 men were killed and 19 injured by the explosion aboard the "Royal Sovereign", which was due to the premature ignition of a cartridge in a six-inch gun before the breech had been closed. A misfire had previously taken place. The ignition is believed to have been caused by a fragment of smouldering cartridge left in the gun after the firing of the previous round. There was no defect either in the gun or in the cordite. A special committee is investigating details, but the principal witness, Commander Sir Robert Arbuthnot, is one of the injured and will not be able to give evidence for some time. The behaviour of Officers and Men, both at the time of the accident and afterwards, is reported by Capt. Adair to have been exemplary.

Captain Humphry W. Spurway, R.M.A., whose death is one of the unfortunate results of the disaster, was quite a young man, being born on February 1st. 1875 and entered the service in 1892, attaining the rank of Lieutenant in the next year, and his brevet majority in 1898. He was an expert in fortifications. Capt. Spurway and the men were buried at sea.