Location
On the main walk through Victoria Park.

Description
Picturesque miniature Chinese Temple, tent roof with ball finial, solid stone, supported by brown marble squat columns on white marble base. Commemorating the Far East commission of HMS ORLANDO 1899-1902.




Memorial (2007)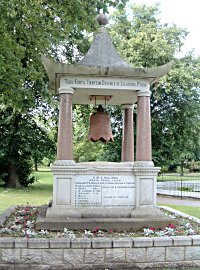 Vice-Admiral Sir E Seymour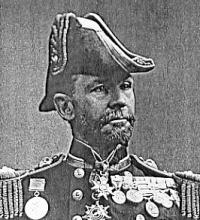 The Taku Bell (2013)
Inscription (Front)
(Top)
TAKU FORTS, TIENTSIN, DEFENCE OF LEGATIONS, PEKIN.
(Bottom)
H.M.S.ORLANDO
NORTH CHINA 1900
Commander P.H.WRIGHT, died of wounds received at Tientsin
W.GINGELL Sergt R.M.L.I.
N.BERRY Ord
J.W.JOHNSON Lt.SMm.
R.WHEELER A.B.
H.MILLS A.B.
F.HUSSEY A.B.
E.CRADDOCK A.B.
N.ROBINSON Pte R.M.L.I.
A.G.SAWYER Pte R.M.L.I.

}KILLED Sir E.
}SEYMOUR'S COLUMN
}
}
}KILLED AT TIENTSIN.
}
}
}
Legation guard died of wounds.

Inscription (Left)
(Top)
FORTITER DEFENDIT TRIUMPHANS

(Bottom.)
This bell was taken
At the capture of the North West Fort, Taku
June 17th 1900
And brought home by H.M.S. ORLANDO.
The memorial is erected by the
Officers and Men
In memory of their comrades
Who lost their lives
During the commission.

Inscription (Back)
(Top)
PERPETUAL FELICITY ACHIEVED

(Bottom)
(Translation
Of inscription on the bell)
'Come pleasant weather and gentle rain
The empire happy at peace again'

Inscription (Right)
(Top)
H.M.S.ORLANDO
1899-1902

(Bottom)
CAPTAIN JAMES N.T.BURKE, C.B. DIED AT SEA 12thMAY 1902
Mr E.A.GOVETT, Midshipman
BENJm. GREEN Chief Stoker
E.C HOLLOWAY P.O.2ndCl.
R.J.HALLS A.B.
J.HARDING Stoker
W.SNELGROVE Ord.
F.J.BOULTON Boy.


Further Information
[From Gates: Ships of the British Navy]
"This name dates from 1811, its most distinguished bearer being a cruiser launched at Jarrow, 3rd. August, 1886. She took an active part under Captain J.H. Burke in suppressing the Chinese outbreak in 1899. The ship was the first to arrive on the scene when trouble arose, and it was her Naval Brigade which originally undertook the defence of Tientsin. Captain Burke's gallantry, and that of the brigade he commanded during the long and arduous fighting, which resulted in the capture of the city, formed the subject of a special dispatch. At the beginning of the operations the Orlando had a complement of 486 officers and men, of whom 31 were sent to Peking, 112 to Tientsin, 104 accompanied Sir Edward Seymour, 99 took part in the capture of the Taku Forts, and l6 were absent in lighters, etc., in the river, leaving 124 on board. Yet, with all these men absent, the Orlando steamed 900 miles and brought the Chinese Regiment from Wei-Hai-Wei. Captain Burke died on the passage home. Her casualties were 5 killed and 26 wounded."

HMS ORLANDO was sold on 11/7/1905. It was at one time the flagship of the Australian Station.

Further Information about The Bell

The memorial was built in a Chinese style to hold a bell captured at the North-West Fort, Taku, but it has a varied history of its own. The bell hung in it's place from 1902 when the memorial was constructed until the Second World War, when it was removed, possibly as protection from bombing. It seems that in the aftermath of conflict no one remembered to replace it and it wasn't until 1960 that the Evening News started asking questions about it's location. After a fruitless search in Milton Park, it was eventually located in a shed in Victoria Park itself and restored to it's former position. There it remained until it was defaced by vandals and once again removed for safe keeping. In a letter to the Evening News in 1993 it was suggested that it was an inappropriate artefact for a Naval Memorial, carrying as it does a message of peace, and that it should be returned to the temple from whence it came.
[Research: Cynthia Sherwood]

On the 13th June 2005, The News reported that a Chinese delegation had arrived in Portsmouth to take possession of the bell. Given it's provenance and the probability that it would never again hang in the Orlando Memorial, it seems a fitting conclusion to the history of the bell. This however was not the end as a replica bell was placed in the memorial in 2007.

The original bell is now on display in Tienjin, China. The photograph on the left was taken by Phil Curme (www.walkingthebattlefields.com) in 2013.

See also
The Chinese guns of Wei-Hai-Wei at HMS Excellent.