Location
On the rear wall of the chapel on the south side of the church.


Memorial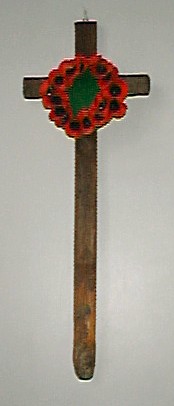 Transcription
019
No 23035 L CPL E COOLEY
1st Hants
23rd AUGUST 1916


Further information
This memorial is a wooden cross which is probably the original cross over the grave in France and brought back by fellow soldiers. The inscription is in the form of aluminium tags stapled to the back of the cross. The '019' tag is stapled upside down. This may have been because Lance Corporal Cooley is actually buried in plot Q19 and this was a means of avoiding confusion between an 'O' & a 'Q'. Alternatively they may not have had a stamp for a 'Q'. Another possibility is that it was to show that a new stone had been ordered. It is reasonable to assume that with all the crosses to be replaced in far from good conditions there would be some system to try to avoid confusion or duplication.

It is not known why this cross should be in St Wilfrid's, since Lance Corporal Cooley's name does not appear in either of the Parishioners memorials in the church, and the entry under his name at the Commonwealth War Graves Commission lists his home address as being on the Isle of Wight. However, there are several other members of the 1st Hants Regiment listed on the Parishioners memorials, so perhaps a friend brought it home as a personal memento.

Lance Corporal Cooley is buried in the CAMBRIN CHURCHYARD EXTENSION, Pas de Calais, France. Cambrin is a village about 24 kilometres north of Arras and about 8 kilometres east of Bethune, on the road to La Bassee. Cambrin Churchyard Extension is on the south side of the main road, 200 metres from the Mairie. The Commonwealth plot will be found behind the church. At one time, the village of Cambrin housed brigade headquarters but until the end of the First World War, it was only about 800 metres from the front line trenches. The village contains two cemeteries used for Commonwealth burials; the churchyard extension, taken over from French troops in May 1915, and the Military Cemetery "behind the Mayor's House." The churchyard extension was used for front line burials until February 1917 when it was closed.