Location
On the East facing wall at the back of the church adjacent to the main doors.


Memorial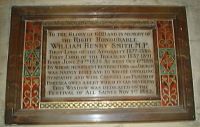 Window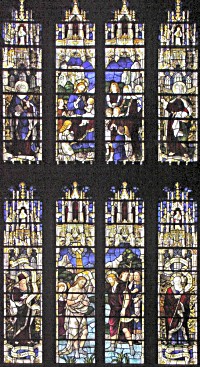 COPYRIGHT: BART O'BRIEN
Transcription
TO THE GLORY OF GOD AND IN MEMORY OF
THE RIGHT HOMOURABLE
WILLIAM HENRY SMITH MP
FIRST LORD OF THE ADMIRALTY 1877-1880
FIRST LORD OF THE TREASURY 1887-1891
BORN JUNE 24TH 1825. AT REST OCT 6TH 1891
BY WHOSE MUNIFICENT BENEFACTIONS THIS CHURCH
WAS MAINLY BUILT AND TO WHOSE UNFAILING
SYMPATHY AND WISE COUNSEL THE PARISH OF
PORTSEA OWES A DEBT WHICH IT CAN NEVER PAY
THIS WINDOW WAS DEDICATED ON THE
FESTIVAL OF ALL SAINTS NOV 1ST 1892

Further Information
This window was originally to be dedicated to the victims of the HMS Royal George which sank in the Solent on 29th August 1782 with the loss of over 900 lives, but owing to the death of W.H. Smith MP on 6th October 1891, by whose munificent benefaction this church was mainly built, it was decided to dedicate the window to him.

See other memorials to the Royal George in St Mary's.