Location
In the porch at the north-west corner of the church.


Memorial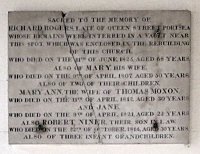 Transcription
SACRED TO THE MEMORY OF
RICHARD ROGERS, LATE OF QUEEN STREET, PORTSEA
WHOSE REMAINS WERE INTERRED IN A VAULT NEAR
THIS SPOT, WHICH WAS ENCLOSED IN THE RE-BUILDING
OF THIS CHURCH
WHO DIED ON THE 11TH OF JUNE 1825, AGED 68 YEARS
ALSO OF MARY, HIS WIFE
WHO DIED ON THE 9TH OF APRIL 1807, AGED 50 YEARS.
ALSO OF TWO OF THEIR CHILDREN,
MARY ANN, THE WIFE OF THOMAS MOXON,
WHO DIED ON THE 11TH APRIL 1812, AGED 30 YEARS
AND JANE
WHO DIED ON THE 9TH OF APRIL 1821, AGED 22 YEARS
ALSO ROBERT NINER THEIR SON IN LAW
WHO DIED ON THE 22ND OF OCTOBER 1814, AGED 30 YEARS
ALSO OF THREE INFANT GRANDCHILDREN.