Location
The church is at the junction between Isambard Brunel Road and Greetham Street. The memorial is on the right hand wall on entering the church through the main doors. There is a car park by the church which is accessible from Greetham Street.

Click for Street Map

Description
The memorial is made of oak with the inscription and names in gold leaf.


Memorial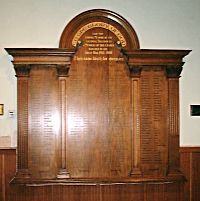 Transcription

TO THE GLORY OF GOD
AND THE
UNDYING MEMORY OF THE
THE FOLLOWING PARISHIONERS
AND MEMBERS OF THIS CHURCH
WHO DIED IN THE
GREAT WAR 1914-1918
THEIR NAME LIVETH FOR EVERMORE


AYLEN CATHERINE MA
ABERY ALFRED
ABRAHAM ALBERT
AMEY WILLIAM T
AMY WILLIAM
ARNELL WILLIAM A
ATHERTON FRANK
BAILEY JOSEPH
BAILEY EDGAR G
BANNISTER JAMES W
BARKER LEONARD G
BARTHOLOMEW AE
BATTELL HARRY F
BAULF ALBERT C
BAYLISS EDWIN C
BRIGGS WALTER H
BROWN HERBERT G
BROWN WILLIAM J
BULLOCK EDWARD
BULLOCK GEORGE
BURGESS CHARLES W
BUSHNELL JOHN E
BUTCHER HUGH E
CARPENTER THOMAS W
CARTER HENRY E
CARTWRIGHT RICHARD
CHAPMAN GEORGE J
COCKRAM ALFRED J
COLLINS CHARLES P
COPE HERBERT
COSTER GEORGE A
COX CHARLES
CURTISS GEORGE A
CRIPPS EDWARD
DICKINSON ALFRED J
DIDYMUS EDWARD J
DOREY WILLIAM H
DOWLING JOHN
DUCKWORTH JOSEPH
DUDLEY HENRY
FACER JOHN
FOSTER WILLIAM L
FRAMINGHAM FREDERICK H
FRY LEONARD C
FRY PERCY JAMES
FUTCHER HARRY G
GUVES JOSEPH
GORE CECIL H
GRACE FREDERICK JD
GRAHAM ARTHUR D
GRAY ARTHUR EH
GRONSHAW PERCY
GUY WILLIAM JAMES
HARKER JOHN W
HARRIS ARTHUR E
HARRIS ARTHUR
HOAR CHARLES HENRY
HODGE WILLIAM J
HOOPER HENRY S
HOPE ALFRED T
HOPKINS GEORGE
HUMPHREY WB
HURST ALFRED
ISAACSON GEORGE
JAMES GEORGE S
JEFFREY FREDERICK
JENKINS FREDERICK SEYMOUR
JERRAM WILLIAM T
JORDAN MONTAGU
JULIANS SAMUEL M
KELLY RICHARD OWEN
KENNEDY LAURENCE
KEY THOMAS NEWMAN


V.A.D.
HAMPSHIRES
H.M. YACHT KETHAILS
WILTSHIRES
H.M.S. HAMPSHIRE
HAMPSHIRES
R.F.A.
H.M.S. INVINCIBLE
HAMPSHIRES
AUSTRALIANS
MIDDLESEX
AUSTRALIANS
ROYAL WARWICKSHIRES
R.F.A.
H.M.S. BULWARK
HAMPSHIRES
H.M.S. HAZARD
HAMPSHIRES
H.M.S. VANGUARD
R.M.A.
ROYAL WEST KENTS
H.M.S. VANGUARD
KING'S ROYAL RIFLES
LANCASHIRE FUSILIERS
HAMPSHIRES
H.M. YACHT HELGA
R.G.A.
HAMPSHIRES
R.E.
H.M.S. HAMPSHIRE
R.E.
H.M.S. GOOD HOPE
HAMPSHIRES
R.F.A.
R.G.A.
MIDDLESEX
H.M.S. ABOUKIR
H.M.S. GOOD HOPE
H.M.S. GOOD HOPE
HAMPSHIRES
R.M.L.I.
R.A.S.C.
EAST KENTS
DORSETS
H.M.S. CORNWALL
HAMPSHIRES
HAMPSHIRES
H.M.S. BIRKENHEAD
LONDON SCOTTISH
R.G.A.
H.M.S. TIPPERARY
H.M.S. BULWARK
H.M.S. LION
H.M.S. GOOD HOPE
H.M.S. INVINCIBLE
HAMPSHIRES
H.M.S. INVINCIBLE
H.M.S. ZEALANDIA
KING'S ROYAL RIFLES
H.M.S. BULWARK
KING'S ROYAL RIFLES
HAMPSHIRES
R.F.A.
H.M.S. VIKNOR
NORTHUMBERLAND FUSILIERS
R.E.
R.E.
H.M.S. QUEEN MARY
R.H.A.
H.M.S. MARLBOROUGH
H.M.S. INVINCIBLE
HAMPSHIRES
NAVAL BARRACKS


KING THOMAS
LACEY GEORGE HJ
LEAT CHARLES FREDERICK
LEWIS DAVID W
LITTLEWOOD CHARLES FN
LLOYD ARTHUR
MASKELL HERBERT
MAYDEN GEORGE ERNEST
McINTOSH LAWRENCE S
McNAMER CHARLES E
MIDDLEWOOD WILLIAM
MILES BASIL
MILES WILLIAM H
MONEY WILLIAM C
MOREY HUBERT E
NEWLAND RICHARD H
NEWMAN FREDERICK
PATTISON ALFRED EDWARD
PEARSON THOMAS H
PEGG WILLIAM C
PERRATT FRANK W
PERRY REGINALD TH
PITTARD M.M. LEONARD
PLATT EDGAR G
PRESTON SYDNEY
PROWTING PERCY C
RAFFERTY WILLIAM
REED ERNEST G
REES ALFRED
REGAN EDWARD JOHN
RILEY ROBERT
RILEY THOMAS C
ROBINSON JACK
ROGERS ARTHUR
ROGERS CHARLES HY
ROGERS FREDERICK
ROGERS HARRY
ROSER EDWARD F
RUSHBY ROBERT
SADDLER EDMUND
SCAMMEL ALFRED
SEYMOUR WILLIAM
SIMONS HENRY J
SHEAF BURTON E
SHARP EDWARD J
SHEPHERD SAMUEL
SHERWOOD FRANK
SLADE ERNEST W
SMITH GEORGE L
SMITH MARK AWH
SOUTHWELL CHARLES P
SPURLING WILLIAM J
STAMP TOM
STONE GEORGE A
SULLIVAN DAVID
SYMONDS F
SYMONS GEORGE W
TRIBE BENJAMIN
VOKE ALBERT A
WAREHAM JOHN G
WATTS EDWARD M
WEBB ROBERT F
WELDON GEORGE W
WHEELER JOHN W
WHITE WALTER
WHITEL JOHN C
WIGGINS RICHARD J
WILLIAMS WALTER
WILLIAMS WILLIAM CT
WOODS ARTHUR J
WOOLVER SYDNEY A
WRIGHT WILLIAM V
YOUNG CHARLES H


H.M.S. GOOD HOPE
HAMPSHIRES
H.M.S. QUEEN MARY
H.M.S. GOOD HOPE
H.M.S. BLACK PRINCE
ROYAL SCOTS
H.M.S. HAMPSHIRE
H.M.S. MALAYA
H.M.S. ABOUKIR
MACHINE GUN CORPS
R.F.A.
R.H.A.
AUSTRALIANS
H.M.S. VIKNOR
H.M.S. HOGUE
CANADIANS
MACHINE GUN CORPS
CANADIANS
OXFORD & BUCKS
ROYAL ENNISKILLEN FUSILIERS
ROYAL WARWICKSHIRES
HAMPSHIRES
HAMPSHIRES
DORSETS
HAMPSHIRES
R.M.L.I.
EAST LANCASHIRES
HAMPSHIRES
H.M.S. BAYANO
ROYAL BERKSHIRES
DORSETS
HAMPSHIRES
RIFLE BRIGADE
H.M.S. MALAYA
HAMPSHIRES
H.M.S. LION
DEVONS
H.M. SUBMARINE E35
HAMPSHIRES
ROYAL BERKSHIRES
H.M.S. LION
H.M.S. CRESSY
WILTSHIRES
H.M.S. GOOD HOPE
WILTSHIRES
H.M.S. ARDENT
HAMPSHIRES
H.M.S. BULWARK
H.M.S. BAYANO
H.M.S. BULWARK
H.M.S. GHURKA
H.M.S. P52
H.M.S. GLATTON
H.M.S. GOOD HOPE
DORSETS
WILTSHIRES
WILTSHIRES
WILTSHIRES
R.G.A.
LONDONS
WILTSHIRES
S.W.B.
R.A.S.C.
R.E.
R.A.S.C.
H.M.S. PRINCESS IRENE
R.G.A.
WILTSHIRES
H.M. SUBMARINE E15
WILTSHIRES
EAST KENTS
H.M.S. GHURKA
H.M.S. TARTER