Location
On the south wall of the Chancel.


Memorial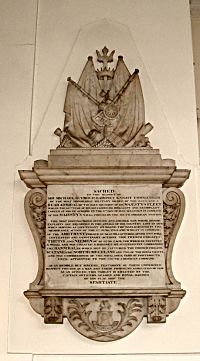 Transcription
SACRED
TO THE MEMORY OF
SIR MICHAEL SEYMOUR BARONET, KNIGHT COMMANDER
OF THE MOST HONOURABLE MILITARY ORDER OF THE BATH AND A REAR ADMIRAL, OF THE BLUE SQUADRON OF HIS MAJESTY'S FLEET WHO IN THE 66TH YEAR OF HIS AGE, CLOSED HIS BRILLIANT AND EXEMPLARY CAREER AT RIO DE JANEIRO ON THE 9TH DAY OF JULY 1834 WHEN IN COMMAND OF HIS MAJESTY'S NAVAL FORCES ON THE SOUTH AMERICAN STATION
THIS MOST DISTINGUISHED OFFICER AND AMIABLE MAN WHOSE HEROIC EXPLOITS ARE RECORDED IN THE ANNALS OF HIS COUNTRY, LOST AN ARM WHEN SERVING AS LIEUTENANT ON BOARD THE "MARLBOROUGH" IN THE MEMORABLE ACTION OF THE 1ST JUNE 1794 AND WHILST IN COMMAND OF THE "AMETHYST", FRIGATE OF 36 GUNS, CAPTURED AFTER TWO WELL CONTESTED AND SANGUINARY ACTIONS THE FRENCH FRIGATES "THETIS" AND "NIEMAN" OF 46 GUNS EACH, FOR WHICH HE RECEIVED A MEDAL AND WAS CREATED A BARONET. HE SUCCESSIVELY COMMANDED THE "HANNIBAL" (IN WHICH SHIP HE CAPTURED THE FRENCH FRIGATE "SULTANE") THE "NORTHUMBERLAND" AND TWO OF THE ROYAL YACHTS AND WAS COMMISSIONER OF THE NAVAL DOCKYARD AT PORTSMOUTH UNTIL APPOINTED TO THE SOUTH AMERICAN COMMAND.