Location
On the south wall of the Chancel.


Memorial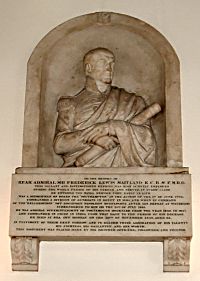 Napolean aboard Bellerophon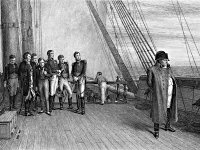 Bellerophon at Torbay
Bellerophon Figurehead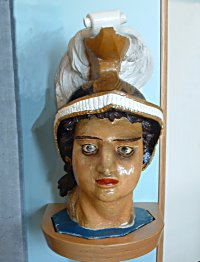 Transcription
TO THE MEMORY OF
REAR ADMIRAL SIR FREDERICK LEWIS MAITLAND KCB St FMRG
THIS GALLANT AND DISTINGUISHED OFFICER WAS MOST ACTIVELY EMPLOYED DURING THE WHOLE PERIOD OF HIS CAREER AND SERVED IN EVERY CLIME
HE ENTERED THE NAVAL SERVICE VERY EARLY IN LIFE, WAS A MIDSHIPMAN ON BOARD THE "SOUTHAMPTON" IN THE ACTION OF THE 1ST JUNE 1794, COMMANDED A DIVISION OF GUN BOATS IN EGYPT IN 1801 AND WHEN IN COMMAND OF THE "BELLEROPHON" OFF ROCHFORT, NAPOLEAN BUONAPARTE, AFTER HIS DEFEAT AT WATERLOO SURRENDERED TO HIM ON THE 15TH JULY 1815
HE WAS ADMIRAL SUPERINTENDENT OF PORTSMOUTH DOCKYARD FROM THE YEAR 1832 TO 1837
AND COMMANDER IN CHIEF IN INDIA FROM THAT DATE TO THE PERIOD OF HIS DECEASE.
HE DIED AT SEA OFF BOMBAY ON THE 30TH NOVEMBER 1839 AGED 62
IN TESTIMONY OF THEIR DEEP SORROW, AND TO RECORD THEIR ADMIRATION OF HIS TALENTS, HIS FIRMNESS, HIS GALLANTRY AND HIS WORTH
THIS MONUMENT WAS PLACED HERE BY HIS BROTHER OFFICERS, FOLLOWERS AND FRIENDS

SIR FREDERICK LEWIS MAITLAND

Sir Frederick Lewis Maitland was born on 7th September 1777, his father was The Hon Captain Fredrick Maitland of Rankeillor, near Cupar in Fife, his mother was Margaret Dick. He served as Midshipman of the Southampton 32 in Lord Howe's action 1 June 1794; was employed, while holding the rank of Commander, in the expedition to Egypt in 1801; attained Post-rank in the course of that year; and had command, during the late war, of the Loire and Emerald frigates, Goliath 58, Boyne 98, and Bellerophon 74. In the ship last mentioned, he had the honour of receiving Napoleon Buonaparte when he surrendered after the battle of Waterloo. During the peace, he commanded the Vengeur, Genoa, and Wellesley 74's. He was nominated a C.B. in 1815; advanced to Flag-rank in July 1830; and created a K.C.B. in the following November. He filled the office of Admiral-Superintendent at Portsmouth from July, 1832, until July, 1837; and that of Commander-in-Chief in the East Indies from the latter period until the date of his death, 30 November, 1839.

HMS BELLEROPHON

In many ways HMS Bellerophon (or Billy Ruffian as she was affectionately known) was a typical ship of the line built in the 18th Century for the Royal Navy. She is known to us now principally through her connection to Napolean, but in 2003 she was the subject of an exhaustively researched book by David Cordingly entitled "Billy Ruffian". This most readable volume takes the reader through the history of the ship from construction to being finally broken up. The following precis of the history of HMS Bellerophon is taken partly from the book and partly from the Maitland family website

The design for the 74 gun HMS Bellerophon was laid down by Sir Thomas Slade but he died 10 years before the Admiralty ordered its construction. Bellerophon was just one of fourteen ships built to the same plans. She was constructed in the private shipyard belonging to Edward Greaves at Frindsbury, near Rochester. Greaves signed the contract for building the ship in February 1782 but she wasn't launched until 1786, due in part to an Admiralty stipulation that her wood should be allowed to season for two years. Even though she was then in the water she had to wait another four years before she was fully fitted out and received aboard her first Captain.

1790 Captain Thomas PASLEY
On 16th August 1790 Captain Pasley finally took the Bellerophon to sea but by the end of the year she was back at her moorings in Sheerness, the threat of war with Spain having subsided. There she stayed for three years until the French declared war on England when once again she was made ready for service, and once again under the command of Captain Pasley. Bellerophon joined the Channel fleet under Lord Howe but was damaged on her first voyage. Repairs were carried out quickly at Plymouth and she rejoined the fleet blockading the French at Brest. She saw no action at the time but established a reputation as one of the fastest ships afloat. On 11th September Pasley was promoted to Commodore and on the 16th January 1794 her new Captain stepped aboard.

1794 Captain William Johnstone HOPE
Bearing first the pendant and then the flag of Rear Admiral Pasley, commanding a division of Earl Howe's fleet in the West Indies. On 28 May the French fleet was discovered to windward and in the evening Bellerophon brought the Revolutionnaire, 110, to action for an hour before any British ships could get up in support. Disabled, she joined the main body of the fleet, and darkness put an end to the partial actions that had taken place. The following day, with the fleets drawn up in order of battle, Bellerophon, on the signal to break the enemy line, passed between the 5th and 6th ships in the enemy rear. She was accompanied by Queen Charlotte and Leviathan, the latter also crippled, with the rest of the British fleet passing to leeward. When the French wore to succour their disabled vessels, Lord Howe was unable to frustrate them and finally a thick fog prevented a renewal of the action.

Bellerophon took part in the Battle of the Glorious First of June and lost no more than 4 killed and 27 wounded during the long and bloody battle. Capt. Hope was awarded a gold medal. Rear Admiral Pasley lost a leg and was made a baronet with a pension of 1000 pounds per annum. He died in 1808, aged 75 years. Capt. Hope continued to command Bellerophon until January 1795.

1795 Capt. Lord CRANSTOUN
On 30 May 1795 Vice Admiral Cornwallis sailed from Spithead to cruise off the Penmarks with a squadron of five sail of the line, Brunswick, Royal Sovereign, Bellerophon, Triumph and Mars, and two frigates. On the 8th they chased eight small vessels into Palais Road, Belle Isle and blockaded them there. On the 12th a squadron sailed from Brest and formed a junction on the 15th with Rear Ad. Vence off Groix. When Cornwallis received news from Phaeton that an enemy force was in sight to leeward, he stood on towards them, assuming them to be frigates. The French fleet now consisted of thirteen sail of the line, fourteen frigates, two brigs and a cutter, under the command of Vice Ad. Joyeuse, so, when he found that he was outnumbered 3O to 7, he immediately hauled off, hotly pursued by the enemy.

1796 Capt. J. LORING, 5/96. Capt. Henry D'Esterre DARBY, 1O/96,
On 7 June 1799 Bellerophon with nine other ships-of-the-line joined Rear Admiral Nelson off Toulon and five days later he steered for Corsica in search of the French fleet which had sailed from Toulon in May. The French were discovered near Alexandria on 1 August. Bellerophon was ninth in line as they attacked the French in Aboukir Bay. She brought up by the stern close to the French admiral's ship, the Orient, and became exposed to that ships tremendous broadsides. Capt. Darby was wounded early in the action and forced to quit the deck, Lieut. Daniel was killed by the falling mainmast and command devolved on the 24 year old Lieut. Robert Cathcart. Orient caught fire and, after an hour, blew up. Only about seventy of her people were saved, mainly picked up by British boats. When the fire spread to Bellerophon Lieut. Cathcart cut her cable and, totally dismasted, she drifted some miles before being brought up with the kedge, her only anchor. Her losses were 49 killed and 148 wounded. Bellerophon went to Gibraltar for a refit and returned to Portsmouth on 2 April 1800.

1801 Capt. Lord Viscount GARLIES. (later Earl of Galloway)
Bellerophon sailed to join the Channel fleet on 21 August and was employed in the blockade of Brest until the end of hostilities.

1802 Capt. J. LORING
Bellerophon was sent to the West Indies at the end of March and on 5 April sailed from Martinique to Jamaica to join Vice Admiral Sir T. Duckworth with 15 sail-of-the-line. She returned to Plymouth on 12 September 1802 and was paid off. In 18O3 she was back in Jamaica where she lost several officers and more than 1OO of her crew from fever. On 9 September 1803 Bellerophon captured the American schooner Little Sarah laden with coffee, and on 13 October she and the squadron took the American ship Elk.

18O5 Capt. John COOKE, Captain William CUMBY
Bellerophon was in Vice Admiral Collingwood's Lee Division at the Battle of Trafalgar. She broke through the Spanish line under the stern of the Monarca, 74, and, while hauling up to engage her to leeward, she ran on board the French Aigle in the smoke. The French ship being much higher and full of troops, Bellerophon suffered a lot of casualties from musket fire and, by depressing the guns on the main and lower decks, efforts were made to blow up the enemy's decks. Capt. Cooke was killed by a shot in the right breast while he was reloading his pistols and Lieut. William Price Cumby took over command. He fired several broadsides into Aigle's stern as she fell off and then forced Monarca to surrender. Bellerophon lost 27 officers and men killed and 123 wounded.

1805 Capt. Edward ROTHERAM
Bellerophon was employed in the blockade of Brest for over two years.

18O8 Capt. Samuel WARREN
Joined the North Sea fleet and was stationed off Holland. In 1809 Bellerophon sailed to the Baltic to join the fleet under Admiral Saumarez and saw action in the Gulf of Finland. She returned to patrol in the waters off Holland where she stayed for two years.

1811 Capt. John HALSTED
Bellerophon remained on the North Sea station.

1813 Capt. Edward HAWKER
Sailed for Newfoundland and patrolled the area as far south as Bermuda.

1815 Capt. F.W. MAITLAND
After escaping from the field of Waterloo on 18 June Napoleon arrived in Rochefort on 3 July hoping to find a passport for the United States. At that time Bellerophon was blockading Rochefort and on 10 July messengers from Napoleon arrived on board her to enquire about passports. Maitland informed them that there were none and that no French ships would be permitted to sail. While the emissaries were still on board orders arrived saying that Napoleon should be brought to Torquay. On 15 July Maitland sent his barge to bring Napoleon on board. Bellerophon reached Torbay on 24 July and two days later was ordered round to Plymouth where Admiral Keith came on board to inform Napoleon that he would now be addressed as General Bonaparte and that no communication would be permitted with the shore. Bellerophon anchored off the breakwater and was surrounded by small craft packed with people hoping to catch a glimpse of the prisoner. On 6 August Bellerophon anchored off Berry Head. The following day Napoleon removed to the Northumberland and thence to St Helena and Bellerophon took those of his staff who did not wish to follow him round to Spithead.

1816 out of commission at Sheerness where she was hulked and became for a time housed convicts. She remained there until 1836 when she was sold for £4000. In September that year she was broken up at Plymouth.

The figurehead from HMS Bellerophon is now in the Royal Naval Museum, Portsmouth (see photo).