Location
On the North wall of the nave.


Memorial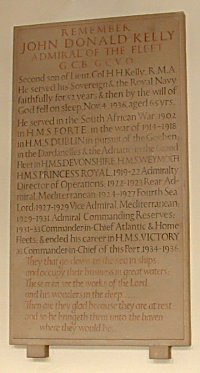 Transcription
REMEMBER
JOHN DONALD KELLY
ADMIRAL OF THE FLEET
G.C.B. G.C.V.O.
Second son of Lieut. Col. H.H. Kelly R.M.A.
He served his Sovereign and the Royal Navy
faithfully for 52 years and then by the will of
God fell asleep, Nov. 4 1936. Aged 65 years.

He served in the South African War 1902
in HMS FORTE; in the war of 1914-1918,
in HMS DUBLIN in pursuit of the Goeben;
in the Dardanelles & the Adriatic; in the Grand
Fleet in HMS DEVONSHIRE, HMS WEYMOUTH
HMS PRINCESS ROYAL. 1919-1922 Admiralty
Director of Operations; 1922-1923 Rear Admiral
Mediterranean; 1924-1927 Fourth Sea
Lord; 1927-1929 Vice Admiral, Mediterranean;
1929-1931 Admiral Commanding Reserves;
1931-1933 Commander-in-Chief Atlantic & Home
Fleets; and ended his career in HMS VICTORY
as Commander-in-Chief of this Port 1934-1936

'They go down to the sea in ships
and occupy their business in great waters
These men seek the works of the Lord
and his wonders in the deep.....
Then are they glad, because they are at rest:
and so he bringeth them unto haven
where they would be'.