Location
On the western wall to the left of the main door to the church.


Memorial
HMS Atalanta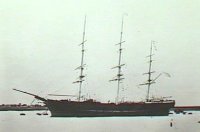 Photograph courtesy of the
State Library of South Australia
Transcription
HMS ATALANTA
OFFICERS AND CREW
WHO WERE LOST IN
HM SHIP "ATALANTA" TRAINING FRIGATE
ON HER PASSAGE FROM BERMUDA TO ENGLAND
EARLY IN 1880
- Names of 15 Officers, 250 Men, 2 Boys and 14 Royal Marines -
(See full list of names below)
Further Information

[Extract from 'St Ann's Church, A Brief History' courtesy of Wendy Smith]

"HMS Atalanta was a training ship, previously known as HMS Juno and launched at Pembroke Dock in 1844. She had seen service in the Pacific before becoming a virtual hulk and the headquarters of the Portsmouth Dockyard police until permanent accommodation was found for them on the site of the original Commissioners house.

Following the loss of the Eurydice, Juno was towed back to Pembroke and converted to provide suitable accommodation for ordinary seamen under instruction. Despite superstitious forebodings among many seamen, she was renamed HMS Atalanta and commissioned at Devonport on 17 September 1878. Her officers, under Captain Francis Stirling, were said to be both experienced and competent so there was no immediate concern when she was overdue.

It was known that she had reached Bermuda on 29 January and that since it was rumoured that she may have been carrying cases of Yellow Fever, which had been rampant in her former port of call, it was understandable that she had not been welcome and had set sail two days later. However by the end of April concerns were being widely expressed and hopes that a storm had dismasted her leaving her drifting helplessly in mid-Atlantic could no longer be believed.

Since a Committee of Enquiry could not call witnesses, its terms of reference were limited to inquiring into the seaworthiness of the ship. The public were not slow to draw comparisons with the loss of the Eurydice, especially as it too, had recently undergone a re-fit. It was left to The Times to disclose, in December 1880, that nine ships of Her Majesty's navy had sunk without trace since 1840 and that five of these had been designed by Sir William Symonds. The Committee could come to no conclusions as to the cause of the loss - but then, they had not been asked to do so!

(The Chairman of the Committee)....had been Admiral Alfred Ryder who was also responsible for placing the first window on the South side of the church nearest the altar in memory of his brother and nephew..."

A second window on the south side of the church commemorates Admiral Ryder himself.


OFFICERS RN

STIRLING, FRANCIS
BLACKETT, FREDK A
DOVE, ARTHUR
FISHER, PHILIP E
ASHTON, JOHN
STEPHENS, WM HENRY
MOSS, EDWARD L
CORCORAN, LAWRENCE BA MD


CAPTAIN
SNR LIEUTENANT
LIEUTENANT
"
PAYMASTER
NAVIGATING LIEUT
STAFF SURGEON
SURGN


NIMMO, ROBT REV MA
BECK, ARTHUR
CHARRINGTON, EDWD P
AINSLIE, ARTHUR W
SILK, DAVID
STANDISH, FREDERICK
CLANCY, RICHARD


CHAPLAIN
SUB LIEUTENANT
"
"
GUNNER
BOATSWAIN
"

MEN RN

ANDERSON, DAVID S
ANGUS, EDWARD
AIKIN, GEORGE
AINSWORTH, WILLM
ALLEN, JOHN
ADCOCK, JAMES THOS
ALLEN, JAMES
ALLAN, ROBERT
BAILEY, JOHN E
BEER, EDWARD
BURROWES, HENRY
BARNARD, JAMES C
BARTLETT, CHARLES
BRAWN, JOHN G
BUSS, JAMES
BLAKE, GEORGE
BRITTON, MATTHEW
BRIDGES, WALTER
BONUS, JAMES
BRITON, ROBERT
BILHAM, GEORGE F
BOND, FREDERICK
BAKER, WILLIAM
BUNTING, WILLIAM
BUCKLAND, THOMAS
BARRY, JOHN J
BARNES, WT
CASSIDY, ADOLPH J
COLLINS, RICHARD
COOK, THOMAS F
COGAN, JOHN
CUMMINGS, HENRY F
COLE, JAMES H
COLE, WILLIAM A
CHATTING, WILLIAM
CRIBB, FRANK
CANTY, WILLIAM
CROSS, JOHN H
CLEMENTS, CHRISTR G
CASSON, ARTHUR B
CLEAL, CHARLES
COUNTY, JAMES
CRIPPS, WILLIAM
CLOKE, HENRY S
CHAPMAN, THOMAS
COLLINGS, WILLIAM or
COLLINS, WILLIAM
CONNOLLY, JOHN
CASEY, JOHN
COOPER, JAMES G
DUHIG, MICHAEL
DYER, HENRY
DOWELL, THOMAS
DONOVAN, JOHN
DAVIS, JOHN W
DAY, CHARLES
DYBLE, JAMES
DYER, MARK
DUFFY, RICHARD
DUNCAN, JOHN
DAGNAM, WILLIAM J
DANIELS, VERNON
DAVIES, FRANCIS E
EDGECUMBE, THOS
EMMETT, JAMES
EAKLAND, EDWARD J
EASTON, JAMES
FORD, WILLIAM G
FITZGERALD, JAMES
FORD, ERNEST W
FULTON, DANIEL
FLUX, WILLIAM
FEAVER, SAMUEL
FITZPATRICK, FRANCIS
GARRETT, DAVID
GALLAGHER, JOHN
GREENAWAY, ROBT H
GRIERSON, JOHN
GRIFFON, JOSEPH H
GIBSON, THOMAS
GREENE, PATRICK
GAGE, JOSEPH
HEADON, JOHN
HATHAWAY, EDWD W


ORDY
"
"
"
"
ORDY 2CL
"
"
SHIPWRIGHT
COOPER
PETTY OFFR 1CL
"
CATN COXWN
AB
"
ORDY
"
"
"
"
"
"
ORDY 2CL
"
"
"
"
MASTERATARMS
PETTY OFFR 1CL
ARMOURER
ORDY
"
"
"
"
"
"
"
"
"
"
ORDY 2CL
"
"
"
"

"
"
SHP STEW ASST
PETTY OFFR 1CL
"
PETTY OFFR 2CL
LEADG SEAMAN
AB
BUTCHER
ORDY
"
"
"
ORDY 2CL
"
"
PETTY OFFR 1CL
AB
ORDY
ORDY 2CL
WRITER 2CL
ORDY
"
"
"
ORDY 2CL
"
SHIPWRIGHT
AB
ORDY
"
"
ORDY 2CL
"
"
PETTY OFFR 1CL
"


HAZEL, GEORGE M
HOWARD, HENRY
HILL, EDWARD
HARVEY, GEORGE
HUNT, JOHN N
HODGES, JOHN
HENDERSON, DAVID
HOSKINS, SAMUEL
HOOPER, SIDNEY J
HALL, THOMAS HARDY
HICKS, CHARLES
HORN, EDWARD
HUTCHISON, JOHN McK
HANDS, THOS W
HILL, WILLIAM H
HEATLIE, WILLIAM
HARLEY, MILLER
HAMER, ANTHONY
HARDY, ALFRED JAS
HUNTER, WILLIAM
HINDS, CHARLES
HARE, CHARLES
HOSKINS, HENRY J
IRVING, HORACE
JOHNSON, WILLIAM
JENNER, THOMAS
JAMESON, ROBERT A
JOYCE, WILLIAM
JAMES, HENRY
JOHNSON, CHARLES
JENKINS, RICHARD H
JONES, DAVID
KISHILISKI, WILLIAM
KEVERN, FRANCIS H
KNOWLTON, WILLIAM H
KNOTT, WILLIAM F
KELLY, JOHN
KENNINGTON, EDWD
KEMP, CHARLES B
KINGSWELL, CHAS H
LOCK, HENRY
LEWIS, JAMES
LAWRENCE, ALEXANDER
LAWRENCE, RICHARD
LEAT, HENRY
LAKE, JOHN
LACY, GEORGE
LEAHY, MICHAEL
LEWIS, GEORGE J
LEWCOCK, JAMES H
LOPPIN, WILLIAM
LOCKE, MATTHEW
LANE, ALFRED
MINERS, FRANCIS J
MAIN, WILLIAM
MERRIFIELD, HENRY
MORFORD, WILLM R
McCLUSKEY, EDWARD
MAHONEY, JOHN
McQUADE, JAMES
McCLURE, WILLIAM
MALLEY, FREDEERICK
MORGAN, HENRY
MURRELL, JOSEPH
MOORE, THOMAS E
MOLE, HENRY
MATTHEWS, EDWARD
MAGUIRE, EDWARD
McTURK, WM H
McMILLAN, DAVID
MITCHELL, JOHN
McCARTHY, LEMUEL
MOORE, RICHARD H
MORSE, WILLM H
McCORMICK, JOHN
MILLS, WILLIAM
MILTON, GEORGE H
MAGNOR, WILLIAM
MAY, GEORGE
MARCHMONT, JAMES
NEALE, WILLIAM F
NEAVES, JOEL B
NEAT, SAMUEL
NAGLE, JOSEPH H


PETTY OFFR 2CL
"
STOKER
BARBER
SHIPS CORPL
AB
"
DOM 2CL
"
ORDY
"
"
"
"
ORDY 2CL
"
"
"
"
"
"
"
DOM 3CL
ORDY 2CL
LAMPTRIMMER
ORDY
"
"
ORDY 2CL
"
"
"
SAILMAKER
AB
DOM 1CL
ORDY
"
"
ORDY 2CL
DOM 2CL
PAINTER 1CL
LEADG SEAMAN
AB
ORDY
"
"
"
"
ORDY 2CL
"
"
"
DOM 3CL
ENGR ARTR
SHIPS COOK
SHIPS COOK
"
LEADG SEAMAN
AB
"
"
ORDY
"
"
"
"
"
"
"
"
"
"
"
"
"
ORDY 2CL
"
"
SICKBERTH ATT
ORDY 2CL
ORDY
ORDY 2CL
"
"


OSBORNE, WALTER J
OWENS, RICHARD D
OWENS WILLIAM
PALMER, CHARLES
PURCELL, WILLIAM
PENNIE, JAMES A
PETERKIN, JAMES
PAWSEY, HENRY
PRATT, WILLIAM
PAGE, THOMAS G
PAINTER, EDWARD
PORLEY, ARTHUR J
POWELL, WILLIAM
POLKINGHORNE, WM
PALMER, CHARLES
PAXTON, ROBERT
PIERCEY, JOSEPH
POOR, SAMUEL
QUINN, FRANCIS
RUNDLE, JOHN
ROWLAND, ROBERT
ROBINSON, JOHN H
RANGER, EDWARD
ROBSON, GILBERT
ROBINSON, WILLIAM
RYAN, FRANK
RICHARDS, ALFRED
STACEY, JOHN
SIMMS, JAMES HENRY
SQUANCE, GEORGE
SCHOFIELD, JAMES
STAUGHTON, SYLVESTER
SIMMONDS, ROBERT
STOCKLEY, SAMUEL
SERVANT, JAMES
STRUDWICKE, WALTR M
SMITH, WILLIAM
STEED, JOSHUA C
SMITHER, PHILIP
SMITH, GEORGE
SOLOMAN, BENJAMIN
SMITH, JOHN
STEELE, THOMAS H
SNOSWELL, JAMES
SETTERFIELD, FREDK
SMITH, JOHN (No2)
SPACEY, ALBERT
STRIDE, JOHN
THORNTON, JAMES
THREADINGHAM, WM
THOMPSON, JAMES
TAVERNOR, EDMUND G
THOMPSON, WILLIAM
THORNE, JOHN W
THOMAS, JOHN F
TOWELL, WALTER W
VOSPER, AMOS
VALE, WILLIAM
WYATT, GEORGE H
WOOLCOTT, GEORGE alias
BEER, ANTHONY W
WESTCOTT, CHARLES H
WEBSTER, JOSEPH
WALLACE, BENJN W
WREN, JAMES
WILLIAMS, GEORGE
WOODFORD, JAMES
WILLARD, DUNCAN
WISE, ALFRED
WALKER, DAVID R
WHITE, HARRY
WHITE, ANDREW
WARREN, JOHN
WINTER, JOB
WILLIER, JAMES
WILLIS, WILLIAM
WORTH, RICHARD
WADGE, WILLIAM
YOUNG, CHARLES
YEOMAN, GEORGE


SIGNALMAN 2CL
ORDY
"
PETTY OFFR 1CL
CAPOFTHEHOLD
LEADG SEAMAN
AB
ORDY
AB
"
ORDY
"
"
"
ORDY 2CL
"
"
COOKS MATE
ORDY 2CL
ROPEMAKER
LEADG SEAMAN
ORDY
"
ORDY 2CL
"
"
"
PETTY OFFR 1CL
"
AB
"
"
ORDY
"
"
"
"
"
"
"
ORDY 2CL
"
"
"
"
"
"
DOM 3CL
CH CARP MATE
PETTY OFFR 1CL
YEOMAN OF SIGS
AB
ORDY
"
"
ORDY 2CL
SHIPS STEWD
ORDY 2CL
SCHOOL MR
SHIPS CORPL 2CL

CAULKER
AB
ORDY
"
ORDY 2CL
ORDY
"
"
"
"
"
"
"
ORDY 2CL
"
"
DOM 1CL
LEADG SEAMAN
ORDY 2CL


BOYS

McCARTHY, CHARLES BUGLER BOY

SMITH, RICHARD W BOY WRITER

ROYAL MARINES

OSBORNE, JOHN W W
ADAMS, WILLIAM
BERRY, ALBERT
DUDMAN, JOHN
EARNSHAW, HENRY
FIELD, EDWARD
GALVIN, MICHAEL


CORPORAL
PRIVATE
"
"
"
"
"


PHILLIPS, JAMES
ROBERTS, EDWIN
RHINES, GEORGE
SANSON, JOHN
SALTER, THOMAS
THOMPSON, HUGH
WEBB, THOMAS


PRIVATE
"
"
"
"
"
"