Location
At the English Heritage store, Fort Brockhurst, Gosport [EH Ref No. 83100114/83100123]. This memorial was originally sited at the west end of the south wall to the nave. The exact position is unknown, but the 1873 Guide to the Church lists this memorial in the same section as that for Captain William Madden which still exists in situ.


Description
The memorial is severely damaged and now in five main pieces with important sections missing; some of the text remains and is partially legible. English Heritage have mistakenly assigned separate reference numbers to the upper two (83100114) and lower three (83100123) pieces.


Memorial (83100114)
Memorial (83100123)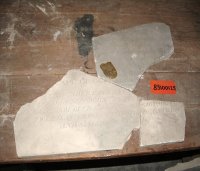 Inscription (From the 1873 Guide to the Church)
H.M.S. "QUEEN"
SACRED TO THE MEMORY OF

JAMES NAPPER
JAMES HISLOP
YOUNG GREEN WEST
ARTHUR BRIDGMAN SIMPSON
HENRY SMART CRAWFORD
CHARLES WILLIAM THORNTON
JOHN AUGUSTUS ALDHAM


SURGEON
SCHOOLMASTER
MIDSHIPMAN
do.
do.
do.
do.


AGED

YEARS
40
28
15
12
16
14
15

MONTHS


7
7
0
11
3

DAYS


5
10
25
0
8

OF HIS MAJESTY'S SHIP "QUEEN" WHO FELL VICTIM TO AN INSIDIOUS BRAIN FEVER WHICH DEVELOPED ITSELF ON BOARD THAT SHIP BETWEEN THE 14TH DAY OF OCTOBER AND THE 15TH DAY OF NOVEMBER 1827, AFTER LEAVING THE ISLAND OF ST JAGO, CAPE DE VERDE; ON HER PASSAGE FROM ENGLAND TO THE CAPE OF GOOD HOPE. THIS TABLET IS ERECTED BY CAPTAIN LORD HENRY JOHN SPENCER CHURCHILL, THE GUNROOM OFFICERS AND MIDSHIPMEN OF H.M.S. "TWEED" AS A TRIBUTE OF THEIR ESTEEM AND SINCERE REGARD.